It's 2020 and I don't know where the last year has gone! New Year is a great time to look forward and set goals for the upcoming year, but also a time to reflect on the previous year.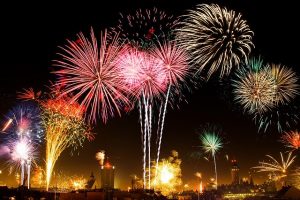 As you look back on 2019, are there any particular successes you want to focus on or repeat? What about any regrets or mistakes that you want to avoid making again? In my opinion, mistakes can be good things – as you will no doubt learn from them and improve yourself going forward.
Looking forward to 2020, are there any particular goals or aspirations you have for the year? A particular debt to clear off perhaps, or a certain amount of savings to have put aside? Whatever your goals are for the new year, this post is going to help you set, reach and smash them!
Whatever your money goals are for 2020, write them down! If you have them written down, they are more tangible and harder to ignore. This might involve writing it in a diary, or just on a piece of paper. Whatever medium works for you – get it in writing!
Find an accountability partner. Brits tend not to talk about money, but in my opinion, this is part of the problem. People are embarrassed to talk about financial issues and debt in particular. If you are struggling with money, finding someone who you can chat things through with will again help to keep you accountable. It might be a close friend or relative, or even a colleague. You don't have to mention numbers, just saying you are working on your money and have financial goals can help you to keep each other on track.
Start a budget and stick to it – this can be a simple pen and paper one, or a spreadsheet. A spending diary or tracker is key to this.
Make sure you regularly check your bank and credit card statements – this will help keep your spending in control, but also will help you prevent any fraudulent activity and stop it as soon as possible.
Use cashback sites where possible. Using these sites allows you to earn money back on your purchases at no extra charge to yourself.
Finding a side hustle or ways of increasing your income, can be a great way of improving your finances in the upcoming year! Find something that works around your hours and family routine – there are loads of options from mystery shopping through to blogging.
Check you are using the best bank account – some will offer rewards for switching or cashback on your purchases, so shop around and ensure that you are maximising the possible rewards you could be getting!
Shop around before making any purchase. Ensuring you sleep on decisions will prevent impulse purchases (which are one of the most regretted financial decisions) and also give you time to shop around and make sure you are getting the best deal.
Make sure that anything with your name and address on it is shredded. You can get a cheap home shredder and it will help prevent your personal details being stolen and identity fraud taking place.
On that note, never click on or open dodgy looking emails. They might be phishing for your personal information, or just put a virus on your computer, either way, if you aren't sure about an email, just delete it and contact the company via the details provided on their website, rather than any provided in the email.
Insurance may sometimes seem like a waste of money – but particularly where pets and travel are involved, they really can be a life saver. Never travel without it, as even the cheapest of medical treatment can cost a very large amount when abroad and away from home. Pet insurance can also prevent unexpected large vet bills and hard life or death decisions.
Utility bills are one of those expenses in life which you can't avoid – but you can shop around and ensure you are on the best tariff for your area and usage. Using a company like Bulb will mean you can be using environmentally friendly energy – as well as earning a £50 referral fee if you join using my referral link – and then you can earn bonuses by referring your friends and family – it's a win win!
Remember that just to be better with money doesn't mean you can't have treats or enjoy yourself. You can save money on all sorts of things – I use airmiles to make holidays more affordable and save money on eating out by using Meerkat Meals or deals on O2 Priority.
I'm part of a great money bloggers community, and they all write about money matters from a different angle and perspective. Check out some of their top tips abour managing Christmas finances, and follow their blogs this year – they may have some advice which is more relevant for you – such as from parent bloggers or retired bloggers.
Short term loans or quick fixes are never the answer. Get financial advice before taking any out – they can have huge interest rates and end up with you more in debt than you were before – it really can spiral and they are best avoided.
On that note, guarantor loans (whether you are the guarantor or the one asking) are in my opinion a terrible option. Whilst they open credit doors which may otherwise have not been open, if the loanee defaults, the guarantor is held responsible for the debt(s) and this can affect their finances and credit long term. There are other ways to rebuild and improve your finances and again, this type of loan I would never recommend.
Make sure you are earning as much as you should be. Whether this is by asking your boss for a raise, or enrolling on some courses to learn new skills and go for a promotion, or even a new job entirely, your career or job will usually be the biggest source of income, and so ensuring you are doing your best in this area will make a real difference.
If you find yourself in debt, hiding your head in the sand is never the solution. Get some free financial help from a debt charity such as CAP or Step Change, but never pay for financial or debt advice. Don't be ashamed or embarassed, more people will be having money problems than you realise, and it can be the first step in making a real difference to your finances long term.
Enter competitions! This is one of my favourite ways to spend a bit of spare time. There are competitions on Facebook, Twitter and directly on websites. Whether you want to only enter competitions which are offering prizes that you want, or you enter any competition and sell any prizes you don't want – they can mean a nice little treat every now and again, and it can be a really fun hobby!
Just remember that everyone's financial situation is personal – and although that can mean we don't feel comfortable talking about money with our friends and family, when we do, we perhaps judge find ourselves judging or being judged about what we spend our money on. What one person feels is important to spend their money on, might not be what we feel is important, but its personal, and we should be supportive (within reason)!
I hope these money tips give you some great ideas about how to move forward with your money in 2020! Let me know in the comments if you have any other ideas or which ones you are planning on using.