I love going to the theatre, and having The West End on my doorstep is a blessing. Saying that, it is not a cheap hobby or habit. I'm all about saving money so here are my top tips to save money and get cheap West End theatre tickets!
Ever heard of theatre ticket lotteries? This is one of my new favourite finds. In short, a show runs a ballot where you can apply for reduced tickets to top shows. My favourite Disney film is Aladdin and I absolutely love the West End show. I have been entering the weekly lottery for tickets to see it again but at a reduced price for a while now. Each week I complete a short online form, selecting up to three performances that I would be able to attend the following week. Until last week I had not been successful, but then last Wednesday I got an email saying I had been selected. I was able to then purchase up to 2 tickets for the following week's Monday performance which was the one I had been allocated from my choice of three.
I've seen the show on Broadway and London, but I find getting into London to go to the theatre quite expensive so I was thrilled I was going to be able to see it at a reduced price. I purchased two tickets at £25 each and a friend who had not seen the show came with me.
Lottery seat quality
We were a bit concerned as we were allocated front row of the stalls seats, and I didn't seem to be able to select different seats during the booking process. This may have been as I was on a mobile device though. I was worried we would be looking up at a steep angle and hurt our necks. This was not an issue, as the stage was only slightly higher than us and at enough of a distance. We were off to one side, so we were mainly looking across the stage, so again that could cause neck issues but we were fine. In the interval I took this picture of the stage to show how good my view was!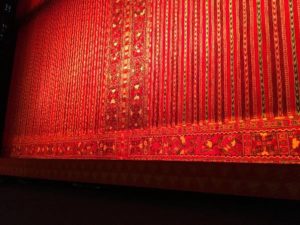 If you enter the Aladdin lottery, you are not obligated to them purchase the tickets so it is worth entering and if something else comes up it is not a problem, but I would highly recommend going. The Genie is worth 10 times the price you will pay to get there alone. If you aren't entertained and don't love it then, well, I don't really have any words. My friend who had never seen the show before said she "so enjoyed the show – it was amazing!!!" and that sums it up for me as well. As the overture started last night I was nearly ready to cry. I love the story, the music, the production, everything. I knew it was going to be a few hours where I could forget about the world outside and immerse myself in pure joy! The Aladdin lottery is available via their website.
Other shows in West End that have lotteries include Book of Mormon (although this is daily and in person so you would have to travel there anyway) and Hamilton will be having a lottery when it opens later this year.
What about rush seats
This is when a certain amount of tickets are held back by the theatre to be sold in person on the day of the performance. Whilst they aren't always referred to as rush tickets in the UK, they are becoming more widespread. I learnt the term whilst in New York when I got rush tickets for "An American in Paris" in New York. It was a show I would never normally have seen as I didn't think it was really my thing, but as I got cheap tickets I went and I fell in love with it. It is now open in the West End and again, there are a limited amount of tickets available each day at the box office. I would never have tried a show like this if the tickets were full price but I am so pleased that I did.
Other shows that have rush or day tickets include: The Mousetrap, Phantom of the Opera (Thursday matinees only), Stomp and Les Miserables (standing only). Other West End shows have online only day tickets via the TodayTix app which is another of my new finds. As well as day tickets you can search for tickets for the next 30 days.
Other top tips
Check out individual theatres for returns on the day.
Compare prices – there are so many online theatre websites now that you should definitely shop around.
Even if you don't want a package, check out some of the deals available. I got my sister and her partner a package with a two-course meal and theatre tickets for two, with better seats, and a lower price than I would have paid for just two standard tickets! For offers like this I tend to use Theatre Tickets Direct
If there is a particular show you want to see, check their website as lottery/day ticket availability/other offers change all the time.
Being flexible about dates and times you want to go will give you more chance of finding cheaper tickets. Saying that, trying on the day if you end up at a lose end can often pay off too!
Related Posts