So you have a blog or small business, and you want to start monetising it, what do you do? A great place to start is with social media. Social media is used by approximately 3 billion of the world's population and therefore you have a massive audience. There are so many channels though and if you try to do them all well you will almost certainly fail. So many other bloggers that I have learnt from have picked 2 or maybe 3 channels to focus on – certainly in the first instance – and master them first.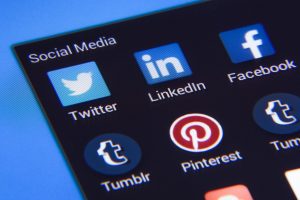 Each social media platform (Facebook, Twitter, Instagram etc) works in a different way, so depending on what your business is about will affect your choice of platform. For example, if you are a photographer or fashion blogger and your work is very visual, then you definitely need to get yourself over on Instagram. I only use Instagram occasionally, and I tend to focus on Facebook and Twitter. Twitter is super easy to set up and use, and now they've increased the character limit you can say that bit more than you used to. It's a great tool for your potential customers to search for you using relevant hashtags and tweets appear in Google searches. Sometimes content can get lost due to the massive amount of tweets sent, but it really is a very good tool for a smart social media campaign.
I use Facebook as a person, but I also have a page for my blog. It's also pretty easy to set up. I know many bloggers who now have groups and these are great for connecting with their customers on a regular and more personal basis. It gives them a more personal service and the readers feel a much larger connection with the business owner or brand – especially when they can be replied to quickly and directly. Facebook is getting more and more ad-focused, but again, this might be something that is really suitable for your business and worth investigating.
I haven't mastered Pinterest yet, although I do have an account. It is essentially a massive search engine and you have links back directly to your content for the readers to discover. To me it feels like a giant catalogue and I used it a lot when looking for ideas to decorate my new house.
There's also LInkedin, Youtube and Google+ and I have accounts on all of them – but I don't use them. I love the idea of being a vlogger and using Youtube regularly, but I'm not confident enough in my speaking and editing skills yet – maybe down the line. I personally don't really use Linkedin for anything apart from building my network, and I don't share my content on here – but I know more and more people who do. I think I need to get my head around it as a social media platform and not just a recruitment hub which is what it used to feel like. I also have a Google+ page as Google likes showing G+ content when people are searching for it. Personally I find the low audience and market share has put me off devoting too much time on it for now, but again who knows.
Social media can be a minefield, and I've only touched really briefly on which platforms I use and why. If you want to work on your social media activity and strategy, then it's worth getting in touch with Click Consult who work with a wide range of well known brands on their SEO (search engine optimisation), content marketing and social media. What they don't know isn't worth knowing!
They even put together this visual infographic about the platforms to help you start your thinking process.