Last year, I moved from a one bedroom flat to a three bedroom house. I finally have a study rather than having to rely on using my laptop on my lap in the lounge. I have a great desk and a room designated for when I'm working at home and blogging. As I will be spending so much time in there I needed to invest in a really solid and comfortable office chair, but that reflects my "inner Meghan Markle" (my current girl crush and style icon).
I loved her in Suits and I love her even more now when I see how happy she and Prince Harry were on their wedding day and ever since. She is classic, elegant and beautiful. She brings something new to the Royal Family, and yet, has fitted in perfectly. Would I be able to find a chair that lived up to this? Well, I would have to have a look and see.
I didn't really know where to start, having never had a home office before, but I came across the fabulous website Furniture at Work and started browsing. There are so many office chairs (and items of furniture) on that site. All of a sudden I realised I needed loads of things even though I'd previously never even heard of them but I had to focus on my chair. After all, I can't do any work at my desk without a chair! After a short time of looking through the options, my "Meghan Chair" jumped out at me. I've paid close attention to her outfits, and she seems to wear a lot of cream. This chair, the "Freya" will allow me to "Sparkle like Markle" from home.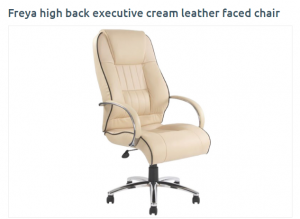 It is cream leather, with clean, simple lines, and yet it is sumptuous whilst remaining classy and tasteful. In particular it made me think of an outfit she wore very recently whilst visiting Cheshire on her first official Royal Engagement with the Queen.
She also rocked the monochrome look on day one of Royal Ascot:
I love that the chair really channels her looks and by being so neutral it fits in any space and it isn't yelling and screaming "look at me", but it's practical and luxurious I may not be an actress or a Duchess, but for now, I am going to "Sparkle" when working from home.
Whoever your style icon is, you really can channel them with your chair! Good luck!
This is a collaborative post.