Lotty Earns recently wrote an expose on how a financial company in the short term finance sector were using Facebook local selling groups to promote their products under the guise of a local person posing a question about needing money quickly, and another  so called local person replying and recommending the company under the guise of being happy with the service. Whilst the company featured in Lotty's article has now stopped using such tactics since the story was picked up in the national press, unfortunately a new sector has jumped on board this horrible and manipulative tactic.
This evening whilst browsing my local Facebook selling group, I saw a post for a gambling offer marked as #ad which you wouldn't need to do if this was a legitimate post. Apart from the #ad part of the post, there was nothing in particular that jumped out at me about it apart from it being a very random thing to be posting in such a group – after all, these groups are supposed to be about community, buying and selling things, and getting to know what's going on in yiour local area. As a blogger, and knowing what that hashtag means, and having read Lotty's article I was suspicious and decided to look closer.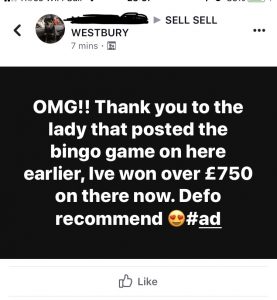 Above is a picture of the post. I've hidden the person's name because I feel it is the right thing to do, but on looking at this person's profile, their picture is that of a dog and there is zero else on their profile. It was getting more and more dodgy by the second.
Someone "took the bite" and asked for more information. Funnily enough, there was absolutely nothing on their profile either – which leads me to think that these are two very fake accounts or even bots!
This is a clearly manipulative approach designed to prey on and draw people in to spend money because another "local person" has just had a big win using the same offer!  These tactics are incredibly similar to the ones used by Bee Loans in Lotty's article.
I have to be honest, I had never heard of the financial company involved in Lotty's article, but I have heard of the very well known gambling company involved in this – Gala Bingo being one of the biggest names in UK High Street gambling in the form of bingo. I have deliberately not hidden their name on the post and I'm not giving them a link but as it's a place online for bingo games and they also do all sorts of gambling now including slots.  as I believe this is something they need to be named and shamed over.
Whatever your views on gambling, you must see that this is some disgusting  practice. I am pleased that the post was posted quite late (after 11pm) and the last time I checked, no-one else had engaged with the post, but this tactic is shady and underhanded and needs to be stopped! I live in a smallish town in Wiltshire, butI have no idea at this time if this has been posted to multiple groups across the UK some of which I am sure have a much larger membership and therefore audience group.
#ad and what does it mean
In the UK, anyone sharing something online which is paid for content or a form of advertising should (according to the ASA) declare that the content is paid for. On TV and on the radio it is obvious you are being sold to in the form of adverts, but hashtags like this are supposed to make it clear when it might be less obvious. In short, someone somewhere (whether it is an individual sharing a referral link or a company advertising their product or service) is making money from posts like this, and in this case it is at someone else's expense by encouraging them to spend £10. Yes the person "might" get a win, but the odds are not in their favour, particularly in offers like this. I can see that they have declared it is an ad, but by pretending to be normal people in a normal Facebook selling group, they are being deliberately deceptive about what they are doing and who is behind it. Someone who is not aware of hashtags or overly confident with things they see on social media may not even have spotted that it was an ad at all. One hashtag doesn't give much away if you don't know what it means after all!
Also, yes it is an ad which they have declared with the generous one hashtag, but on all TV ads for gambling sites, and in fact on sites themselves, there is a link to Be Gamble Aware, Gamstop and other resources aimed at helping people with gambling addictions or problems to help themselves. The picture below is a picture of the resources advertised at the bottom of Gala's own website – so it's not like they don't know that.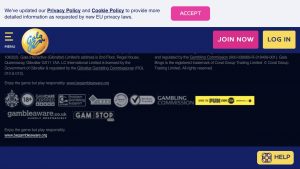 There is nothing of the sort on this oh so not at all natural looking Facebook conversation and these factors all add up to lead me to conclude that Gala have behaved disgustingly and manipulatively and these sneaky tactics need to be stopped. I have already tagged the Gambling Commission (who have bought in new rules to target online advertising so I will be interested in their response) and the ASA in a tweet about this, and it is also going to be flagged to Facebook and I am not going to stop until these tactics are stopped!