Apart from the hard work, being a student had its perks. Depending on your lecture schedule, you could have lie ins during the week, have a hectic social life and not feel the consequences the next day, but of course the most valuable one was the NUS Student Card. I saved a small fortune flashing that everywhere I went.
I used to have a student card and it saved me a small fortune and I was devastated when mine expired and as I was no longer a student I thought that was the end of it. Amazingly though, there is a hack to get around it.
There are several online providers of training courses who are accredited by the NUS and therefore you are eligible to apply for a student card once you have enrolled. The best thing is that you can quite often get reduced prices for these courses via Groupon, Wowcher or other savings sites. I recently enrolled on a £9 course with eCareers which happened to be a subject I was interested in but I do know people who have paid as little as £6 for a course, and then enrolled for my NUS card. You can check if the provider is one of the ones available on the NUS website. Just go over to their site and then choose "buy your NUS Extra card".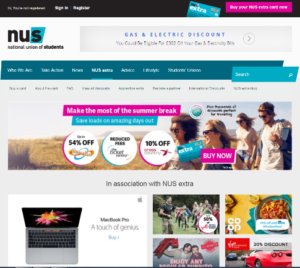 On the next screen, put in your email address:

The next screen will allow you to search for your course provider. I'd get to this stage before purchasing any course, just to make sure.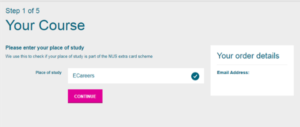 I have obscured my personal information the details will be saved in the right hand box as you progress through the screens.
The next screen asks you a little more about your course. I would put the start date as the month in which you enrolled, and the finish date as 3 years later. For the majority of cheap online courses, you will be choosing "Professional/Vocation" in the next option. In my case the course was accountancy and finance, but just choose the most accurate description to your course.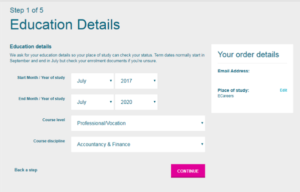 The next screen gives you the option to choose how long you want your student card to be valid for. As it is only £32 for three years, I would recommend you do this, so you don't have to go through the process again next year. You can also add on any of the additional products/offers that they currently have available. You can decline these offers and just proceed without them though.
To make sure it is only you using the student card, you need to upload a photo. Personally when I need to do things like this, I find a picture ahead of time and just save it on my computer. You can however choose to upload one from Facebook or use your webcam to take one there and then.
You will then be given a chance to preview the card as it will appear with your photo on the back.
The next screen asks for you to complete your personal information, including delivery address and contact details. When you get to the "Additional questions" section and you are asked for your student password it really doesn't matter what you put here, as it isn't linked to your online course provider's website.
Finally you will be given a summary screen with all the details you have completed. You can edit any section if you have made a mistake, otherwise, select confirm and pay.
Where can I use it?
Your new student card will arrive in a few working days (mine took about a week) and you get to use it straight away. You can download the app to see where is currently offering discounts and other promotions. Before you go to take up any of the deals outlines here, make sure you read the Ts and Cs in case there are any restrictions! Here are my top 5 places to use it though – Enjoy!
McDonalds – depending on the store, you can get free food for having one.

Cinema – want to go to the cinema on a day other than Tuesday or Wednesday? Student discount definitely reduces the price. Otherwise – check out my

post on how to get Meerkat Movies for BOGOF on those days.

link

Restaurants like Frankie & Benny's give you a discount on all the food you have, so your friends will make savings too and you will be super popular! (Check Ts & Cs for full details).

Having student ID means you can get Amazon Student – which is basically Prime but for half price! Check out why I love Amazon Prime over at

(LINK)!

All the other great shops that given you discounts and freebies including Superdrug, Accessorize and New Look!
Related Posts