I don't really like paying full price for anything unless I really have to. Pretty much every purchase I make is however contributing towards savings on my next holiday. How? I make sure I get cheap flights! Supermarket reward cards are the best for this. I buy the vast majority of my grocery shopping and petrol from Tesco – thus earning me Clubcard Points. I also have a Tesco Clubcard Credit Card which I pay off in full every month. Although at a lower rate, you can earn points on purchases everywhere you shop (not just Tesco) as long as you spend over £8 at a time. These points soon add up.
My Clubcard points are automatically set up to tick over to Virgin Atlantic Flying Club miles so I never get the clubcard points in the form of money off vouchers directly from Tesco. When I signed up for this they were running a promotion which meant that setting up the automatic process earnt you bonus miles just for that. With Tesco you can also choose your points to transfer to either Virgin Atlantic Flying Club Miles or to British Airways Avios if that is your preferred airline. As all my points go to Virgin, I cannot tell you about Avios, but I can tell you all about my experiences with my Virgin miles.
I always travel with Virgin Atlantic when I travel somewhere they go, and now I have even more of a reason to stick with them – as I earn more miles when I do travel with them. There is definitely something to be said for sticking to one preferred company. Virgin also have shopping partners so by making purchases through these partners by navigating to their sites via your Flying Club Account you can earn extra miles. You can also earn extra miles when making purchases through other Virgin companies such as Virgin Holidays (even if the flights aren't Virgin flights), Virgin Trains and Virgin Wines. A little bit short for your dream trip? You can always purchase a some extra ones too.
I had always dreamed of travelling in Upper Class, and last year, by doing all these methods on a regular basis, I flew to New York, Upper Class with Virgin. I blew all my airmiles in order to do this, as I had always wanted to do it – but it was worth every single mile and clubcard point! Yes I had to pay the taxes, but that was still less than I would have spent on full economy fares.
It doesn't cost you anything, and these miles might help towards your next trip.
Other ways to get cheap flights
Travelling as part of a package can mean you end up paying a lot less for flights.
Flying midweek can be cheaper than flying at weekends or on holidays.
Be open to flying with different airlines on each direction of your journey.
Layovers can save you a good chunk of money. Particularly if you are travelling a long distance – it is definitely worth considering.
Booking last minute can mean you snagging a bargain! An airline would rather receive a bit of money for the seat than fly with the seat empty.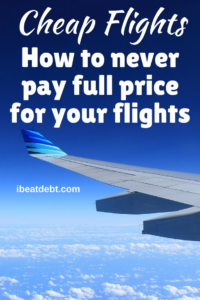 Related Posts