What is a Too Good To Go Box?
You may have heard of the app "Too Good To Go" which is aiming to help the environment by allowing us to do our bit in cutting down food waste. The app is completely free to use and you are only ever charged if you secure a "magic bag" or "magic box". The only problem I have encountered so far with the app is that it's popularity has taken off so quickly, that there are not enough "Magic Bags" available – leaving a lot of users frustrated and wondering if how to get a Too Good To Go box! It is a common complaint that I come across with people saying Too Good To Go is always sold out!
The concept is simple, download the app, set up your favourites (whether that's a supermarket or restaurant near you that is participating) and then try and secure it when they are available. Whilst it is great that they are helping reduce food waste, with the supermarkets taking place such as Morrisons you don't know what you are getting until you turn up to collect it, so it is a bit of a gamble and I'd recommend having plenty of freezer space before trying to get one. The restaurants and cafes taking place quite often will say what they are providing.
Getting a Morrisons Too Good To Go Box Tips
By far the most popular Too Good To Go boxes and bags that I have seen are from the supermarket Morrisons. I finally secured my first Morrisons Too Good To Go Magic Bag a little while ago, but it took me many attempts to get there. I am therefore going to share my Too Good To Go tips for securing that elusive box!
Make sure you favourite the stores or restaurants you are interested in within the app, so you can find them quickly and easily.
Check the app regularly, and at various times throughout the day, as the different establishments will release their bags and boxes at different times.
Before placing an order – make sure you know when the order is due to be collected and that you can get there at the required time. Morrisons ones are usually to be collected the following day, however some of the restaurants and cafes are due to be collected the same day. My first order was due to be collected between 12:00 and 18:00 the following day, and so I went on my lunch break, because I wouldn't have had time to get there after work.
You may notice a pattern as to what time items are selling out, for example, I noticed that the local Morrisons ones seem to always sell out at around 6:15 pm. I tried to remember to check at the right time but I was always forgetting and missing them. The first time I got a Too Good To Go box it's because I set an alarm to go off at 6pm. I refreshed the app and moved quick once it popped up. If I hadn't set an alarm I would have missed out though.
Some people have commented online that they have lost their order as it took too long to pay. I've personally not experienced this. It is important to note that you can't seem to set up a payment method prior to securing your first order however in order to minimise the time taken to check out, I used Apple Pay which I have on my phone, so checkout involved just a few clicks. You can also use PayPal, which whilst slower than Apply Pay is still going to be quicker than entering card details manually. I definitely think that it's worth using a quick payment method just in case.
Even if you secure an order, there are no guarantees that it won't be cancelled by the store. If they have a rush on or sell out of stuff which they would have put aside, your order can still be cancelled so it is worth bearing that in mind. You can also cancel your order up to two hours prior to the start of the collection time listed.
How to collect your box
Once you have secured your box or bag (and assuming the order hasn't been cancelled), arrive at the store at the time mentioned in your confirmation email and in the app. I arrived at the store and proceeded to customer services. When Too Good to Go was a relatively new process, not everyone in store knew what I was on about, so it did take a little time to collect the items, and although it is much faster nowadays, it's still worth making sure you give yourself enough time. After a short wait I was presented with my box. It's not the most balanced of boxes – but like I said, it is a gamble. In mine I had:
3 boxes of Roses
2 Packets of Hershey's Chocolates
2 loaves of bread
3 packets of butter
A bag of white potatoes
A bag of red potatoes
A bag of onions
A packet of pitta bread
I will be freezing the bread products, taking the chocolates to work and using the butter, potatoes and onions in some sort of cooking over the next few days. All of this cost me £3.09 (the price it seems that is being charged for the Morrisons Too Good To Go boxes) and a little bit of petrol to pop out at lunch and pick it up and whilst it may not have been items I would have chosen, there is nothing I can't or won't use. I do live on my own, so if there had been too much to use, or any items I didn't like, I would have shared it with friends and family, so that's another great way of helping others.
I've also had another Too Good To Go box since the first one, and in that one I got a loaf of bread, mushrooms, Cheddar cheese, 6 free range eggs, sugar snap peas, Cheddar cheese muffins, a raspberry swiss roll, blueberries and potatoes. It definitely felt like a more balanced box, and more conducive to creating some healthy meals which I will also probably freeze some portions of as I live alone.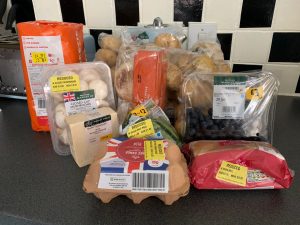 Conclusion
All in all I'm really pleased with my Morrisons Too Good to Go boxes. I love the concept not only from the eliminating food waste angle, but also the fact that it is opening up an option for people who might be on a budget to access groceries at a discounted price. I think there's more work to be done (for example in store the staff not knowing about the scheme or what I was on about), but also hopefully more places getting involved (near me there are only a few places that do it, but I would imagine in busier places such as London this would be a lot higher). The roll out at Morrisons is also not national yet as I know of one friend whose local branch doesn't participate. Hopefully if the branches and brands already involved are making a bit of money back on groceries which they would otherwise have had to have paid to dispose of, it will encourage the continued success and take up through those brands and into others. They can also feel good about themselves with the impact it will be having on the environment too of course!
Other companies who are partnered with Too Good To Go
I've only seen a few companies in my area which are partnered with Too Good To Go, however on speaking to friends around the country I've seen some others are available. Here's some of the most popular:
Accor Hotels
Yo Sushi
Tibits
Greene King
Planet Organic
Patisserie Valerie
Paul
Greggs
Budgens
Starbucks
Londis
BP M&S
My favourite of all – Parsons Bakery!
New companies are signing up with Too Good to Go all the time, with the latest addition being Daylesford Organic Farms. It is therefore worth regularly checking the app to see if goods from new places near you are on offer. Similar apps are also starting up and Olio is another favourite of mine, although this is about individuals sharing food stuffs and other items rather than companies doing so.