I don't know about you but I am melting! I know you've all had a week of this weather already, but I got back from holiday to find it hotter here than it was when I was away. I need to keep cool in a heatwave and I'm going to share with you how I'm going to do it.
Firstly, designed for pets, these cooling mats are amazing. They don't need power, or water, they just have a cooling effect on contact. I have one out for the cats, but when they aren't using it, I like to either put my feet on it, or put it on my sofa and sit against it! It is sooooo nice!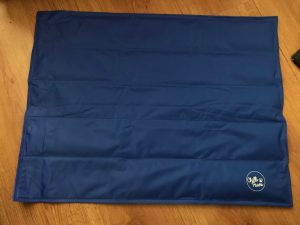 Don't want to spend the money, or need something right away, what about using a cool damp cloth/?. If placed on your pressure points such as your wrists or your head and feet they can be really cooling. You can use a flannel or something similar, and at bedtime in particular these can really help cool you down. You can also use a hot water bottle filled with cold water or even frozen!
Already got a fan? Keep a bottle of water in the freezer at all times, when you are sitting in front of the fan, place the bottle between you and the fan and the air that is blowing on you will be much cooler.  If you don't have a fan – maybe it's time to consider investing (if you can find any store with any in stock). I have one of these which is absolutely brilliant and worth every moment. At the time of publishing, they are still in stock on Amazon.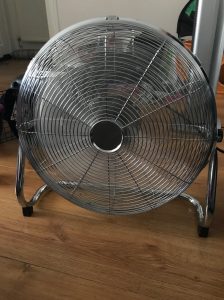 Sleeping on the sofa used to be a sign that you were in trouble, but as heat rises, it might be worth considering as often the downstairs will be much cooler in a house.
Use cotton for clothing and bedding where possible. It is such a versatile and breathable material that it will be the best option to keep you cool in a heatwave. I'm a massive fan of this bedding set.
It's not the cheapest option but I am also a big fan of MagiCool cooling spray. Otherwise, have tepid showers (fast changes in body temperature can reverse the cooling effect) or maybe even make your own cooling spray with a spray bottle like the ones which can be found around the house.