Whether you are saving for a rainy day (or a pandemic) or just want somewhere to store away your lose change, a money box is a great financial tool which is often overlooked. I wrote about why I wanted my baby niece to have a money box in a previous post, but I firmly believe that they aren't just for kids. There are loads of fancy money boxes on the market, but the great thing about money boxes, is that you don't actually have to spend a penny if you don't want to – after all, if you are trying to save money, you probably don't want to spend money for the privilege.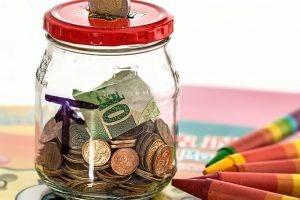 To get you started I've created a free downloadable money box template which you can find here:
All you need to do is print it out, and stick it together. It works better if you use thicker paper or card, and it's only a small box, but if you have a pocket full of change you want to stash away then it's a great place to start. If you have kids, or are feeling creative, you can even colour it in before you cut it out and stick it together.
You don't even have to get creative though, you can use an empty jar or box. You can decorate it or not, but as long as you know that's where you money is going it doesn't really matter.
If you are however feeling creative, I've found some other great ways to make a money box, and whilst a lot of these posts are aimed towards children, they can be adapted and used by anyone of any age!
Nurture Store have a great post about using a small Pringles tub to create a small money box. This would be pretty sturdy and you can paint it, cover it in wrapping or decorative paper, or do pretty much anything. You could also leave it how it is!
Classy Chapter shares more creative ideas with food containers, and suggesting you have one for spend, one for save, and one for giving.
Hey Kayli has a great video on YouTube walking you step by step through how to make a 3D shadow money box.
Got a bit more time and tools? Try this great wooden money drop box from Instructables.
How to personalise your money box
Should you decide to personalise or decorate your money box, there are loads of things you can do. You can colour it in once you have printed it out, or you can use online templates or downloads such as mama bear svg or bunny svg which you can use to personalise any stationary.
What should I put in my money box?
There are loads of ways of building up savings. Some are as simple as any lose change (coins of 5p or less) at the end of the day. Some people prefer to have a set amount each day. Even £1 a dya will get you over £350 at the end of the year – which would no doubt help towards the cost of Christmas. Perhaps you want something a bit different, then have a look at the 1p challenge. It involves putting 1p away on day 1, 2p on day 2, 3p on day 3 and so on. At the end of the year you could have saved over £660! One thing to bear in mind is that if you start in January – your most expensive month on the challenge will be in December, which is expensive enough as it is, so you try starting backwards or mixing and matching the amounts – whatever works for you!
Let me know in the comments below what works for you and how you are going to start building up your savings with your new money box!