London is my home city but it is not cheap. Here are my top tips for things to do and see when you are in London on a budget! I particularly love the amount of things that you can do for free.
Museums
Natural History Museum, Science Museum, Victoria & Albert and the British Museum to name but just a few are free! In fact a lot of the museums in London are free and therefore offer amazing value. Some of them do have additional exhibitions or activities for which there is a fee, but the vast majority are free and can provide many hours of entertainment.
Art Galleries
A lot of art galleries are also free. My particular favourite is the National Gallery and a personal highlight the Sunflowers by Van Gogh. The National Portrait Gallery is also free and has some wonderful artworks from Queen Victoria by Hayter through to Paul McCartney by Sam Walsh. Tate Britain and Tate Modern are also free – but I've not been so I cannot recommend the artwork there. I've heard amazing recommendations about them both though.
Vauxhall City Farm
This is a great place to spend some time if you have some kids. It has many different animals from pigs and sheep to alpacas. They also have a herb garden and a picnic area.
Millennium Bridge
Walking the Millennium Bridge from St Pauls Cathedral to Tate modern and The Globe in Southwark is a lovely walk over the capital's first bridge specifically for pedestrians. You get amazing views up and down the river and it is a great photo spot.
Changing of the Guard
Everyone must do Changing of the Guard at least once in their lifetime – in fact I think it should be the law! It usually takes place from at 11.30 for 45 minutes. From April to July it is every day and from August to March on alternate days. It is worth checking online before you travel to ensure there are no seasonal changes to this but it really is a highlight of things you can do in London!
Take a stroll
There are so many amazing sights in London. Just walk – and you will see some amazing sights. One of my favourite is the Elizabeth Tower (also referred to as Big Ben). There are loads of wonderful parks, two of my favourites are Green Park and Hyde Park.
London is a lot smaller than you might think. Quite often (if you are able) you can walk between places that you think you would need to get on the tube for. By staying over ground you also will see more sights. There is a great map over at TFL, which shows how far in minutes tube stops that are on the same line are in walking time. Check it out here.
Not up to the walk? Just get on a normal bus (don't need to worry about the tourist ones) and for £1.50 you can just be driven there! Using Oyster or contactless gets you a free change to a different bus within an hour, or there is a limit of £4.50 per day on the same card for bus travel!
London on a budget – think outside the box
A lot of what I've shared is the obvious stuff. It's obvious because it is what London is well known for. It's the kind of things people come to London for. Wherever you go in this great city, whatever you get up to, there will be things to do and see. One of my favourites – visit Kings Cross Station and look out for Platform 9 3/4 Yes that's right – you can go and find the platform and get a photo taken as though you are heading off to Hogwarts!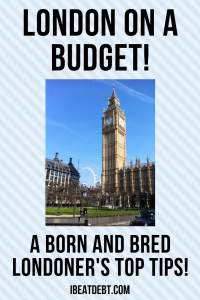 Related Posts