Christmas can be one of the most expensive time of the year. From food, gifts and travel, it all adds up. It's a stressful enough time, seeing people, going here there and everywhere, without the addedd financial stresses so I've spoken to some of the UK's top money bloggers to find out their top tips for managing your Christmas finances to get you through the festive period!
Gifts
Victoria from Lylia Rose shared that in her family they are buying a lot of pre-loved books and clothes off eBay for gifts to save money and be more eco-friendly by choosing secondhand. Their top find was 17 Usborne fact books for £26 and also she got her daughter a pair of Heelys for £12 and they looked good as new! Don't forget to remember charity shops and markets for finding top second hand buys! 
Eileen from Your Money Sorted suggested using an app to set your budget and track your purchases.
Laura from Thrifty Londoner suggested agreeing a spending limit with friends and family.
Katy from Katy Kicker suggested discussing whether there are certain members of the family that would prefer not to exchange presents at all.
Nicola from Mum on a Budget and Jennifer from Monethalia suggests doing a secret santa. Whether this is amongst the adults in the family, with an agreed set budget, or in a friendship group. It allows you to put that bit more thought and possibly even money into a gift for one person, meaning they are more likely to get something they really want.
Tanya from Diaries of Money Mum says that experience gifts can be cheaper and more meaningful gifts and are worth considering.
Scott from The Grumpy Git suggested buy items in the sales after Christmas and throughout the year. In particular he mentioned Lidl and Aldi's special buys. This will allow you to spread the cost rather than wait until a few weeks before Christmas.
Katie from Student Skint suggest spreading your spending and ensuring you get big purchases before the prices go up before Christmas!
Emma from Tuppenys Fireplace suggests making gifts rather than buying them as this will be cheaper but also more meaningful!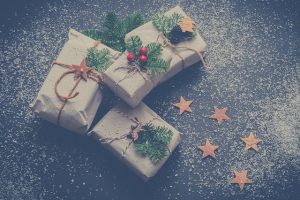 Food
Naomi from Skint Chef suggests starting the shopping early. Each week in the run up to the festive period, they buy something non perishable, like jars of pickles to put away. Not only can this mean they don't have to pay full price in the week before Christmas, it also means they can spread the costs.
Lesley from Thrifty Lesley says meal planning is key to save money on your Christmas food shopping bills. She even has a great Christmas meal plan which you can find here.
Hayley from Miss Many Pennies says you need to not over buy or panic buy. Think about what you really need and what will realistically get used and stick to that to save money and prevent waste.
If you are following a healthy living or diet plan such as Slimming World, these will still work for you, so don't panic and let Christmas sabotage your progress!
Christmas Finances
Fiona from Miss Penny Money suggested putting a set amount that she puts away each month into a "sinking fund".  which gives her an idea of how much she'll have available to spend.
Claire from Daily Deals Blog suggests opening a savings account in January and paying into it regularly from January. This also means that she has enough money to start buying things as soon as she sees things that are on offer, which is also a good way to get more value for your money.
Fiona from Savvy in Somerset reminds you to start planning your finances for January as well as Christmas. Even if you're organised with the cost of gifts and food it's still easy to overspend on days out and Christmas parties, especially when lots of folks get paid early in December. They put aside a little extra each week and buy a few food items to put away to make sure we make it through January as well as Christmas!
Rebecca from Boost My Budget says that as well as saving money, don't forget to try and make some extra money with side hustles and these will help take the pressure off. You might feel too busy to take on overtime in the run up to Christmas, but it's totally possible to make an extra £20-£30 a week in your spare time with simple online tasks such as paid surveys, 'get paid to' sites and website testing. Her run down of great money making ideas can be found here.
Christmas Sentiments
Kaya from Earning by The Sea reminds us that we should remember 'Presence over presents!'
Sara from Debt Camel echoes this suggesting that in years to come, your kids will remember the time spent together with you and the family, not what the presents were. It's more fun to get the children involved in making decorations than buying expensive ones and that is great quality time too.
David from Money for Monday says that it's key to remember that showing love for someone at this one time of the year isn't determined by how much you spend on them or how expensive the gift is!
Nimrata from NimDesai says it's key to remember that over the festive season it can be easy for Christmas spending to get out of hand and to be mindful of that. Sadly, for many people worldwide Christmas can lead to great anxiety and spiralling further into debt which, I'm sure you can agree, is not what Christmas is truly about.