Every week 11 million items of clothing end up in landfill sites, which means the planet and people are being put under more and more unnecessary pressure. Fast or throwaway fashion is not sustainable in the long term. We also all have clothes in our wardrobes that we don't wear, and whether we want to sell our clothes for cash (more about that later) or we just want to donate it to charity to get it out the way, a declutter can be good for the soul as well as the planet, (and the bank balance).
What I usually do is go through my clothes intermittently, and when I wear and wash things, move them to the end of the wardrobe (making a mental or physical note as to where the worn clothes start and unworn end). After a set period of time, anything that hasn't been worn and washed is pulled. I then make a decision about what is the best course of action. If the item isn't in great condition, then I would bin it. If the item is in good condition, but is not a premium or exclusive brand, I would probably donate it straight to the charity shop (although I appreciate that this might not be an option if you are really in need of the money). If the items is brand new with tags, or in good/very good condition or from a premium brand, I would try to sell it first, before donating. The reason for this is that I don't really have the time to be listing things online which are only going to make me a few pence.
Sell your clothes at car boot sales
If you have a lot of stuff (whether it is clothes to be sold, or other bits and bobs as well) another idea is to try a car boot sale first. At a car boot sale, prepare for the professional bargain hunters to swarm you first thing, and people will try to haggle. Stand firm on your prices, at least early on, as you can always drop your prices later (a great tactic if you just want the items gone). Bear in mind that at car boot sales, people are looking for bargains, so it might not be ideal if you are selling a lot of clothes from expensive or premium brands. Also make sure you have a clothes rail, as nicely displayed clothes will be far more appealing to buyers than a pile of stuff on a blanket or sheet on the ground.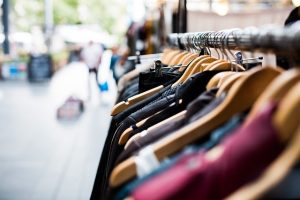 Sell your clothes online
There are more and more clothes selling apps and sites popping up every day. Some of my favourites are Facebook Marketplace, Gumtree, Shpock and of course eBay. With the first three, you list the item to a local audience, and communicate directly with the buyer. You then meet up at a mutually convenient place and time to hand over the goods and the money. Some people don't like the idea of doing this as they don't want people coming to their home, but don't want to hang around on street corners at a mutual meeting place. That's where eBay comes in to its own. In my experience, it takes a little longer to set up an eBay listing than it would one on Facebook Marketplace, Shpock or Gumtree, however your items are going to be seen by a much wider audience. This in turn tends to lead to a higher selling price. With the introduction of the eBay Global Shipping Programme, international buyers can bid on your items, and if they are successful, it requires no more expense or effort on your part – the items are just posted to a UK shipping office and despatched onwards from there at the buyers' expense. This means your items are being seen by anyone on the planet, rather than anyone in your town in a Facebook selling group!
There is however some debate about whether the popularity of auctions is over. Whereas we used to love a last minute bidding frenzy, with the move towards fast fashion and the buy it now, get it immediately culture offered by so many brands, the "Buy It Now" option is getting more and more popular. You do pay a small premium to list your item in this way, and you will of course not get bidders ramping up the price at the last minute, but it can be a good way to sell something in a hurry or for a set price.
Trade clothes at a Swap Shop
Whilst not technically a way to sell your clothes, a swap shop is a great way to "trade" your clothes. These are fun ways to spend an evening with friends or people from a local community, and whilst you won't make a profit, you get new (to you) clothes at no cost to yourself. Swap shops are getting more and more popular, and so I've written a whole post about my experience at one. You can find it here.
Cash 4 Clothes
More and more companies are popping up who are offering to purchase your clothes from you. The only problem with these sites is that the amount they offer is tiny, and unless you have a LOT of clothes to sell, in my opinion, it just isn't worth doing. You are looking at an average of 50p per kilo, and to be honest, even though heavier items such as jeans may bulk this up a bit, if you weigh your clothes you have to get rid of, you really aren't going to be getting much. Obviously it's up to you if you want to go down this route, and there's nothing stopping you, but if I'm only going to get a few pounds (if that) then I donate the goods to charity. They will have more resources to sell the item, and if it didn't sell, they have enough rag material to make it worth while dealing with these kinds of companies.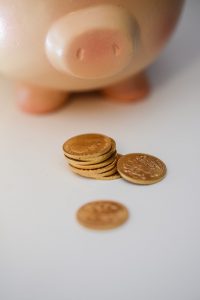 Why I love second hand
Whatever method you choose to sell, trade or donate your clothes, here's why I love second hand!
It is so much better for the planet as the carbon footprint of new clothes bought each month in the UK is more than flying a plane around the world 900 times! Buying preloved and second hand items means that less new clothes are being produced.
You can find things which are no longer in the shops, and perhaps not the "current style or fashion" in the shops, but yet which is more your own personal style.
If you donate your items to a charity shop, you are helping a charity with its fundraising – some rely very heaving on their income from their retail shops.
You can save yourself a small fortune buying second hand or preloved items. I have found some great items at a fraction of the cost of buying new – and sometimes you can even find items that are brand new with tags and yet massively reduced.
"New to me" is just as good as "New" in my opinion!