Your wedding is one of the biggest and best days of your life – so it is understandable that you want to have a day to match your dreams. With an average spend of around £20,000 on a wedding, that is a lot of money. There are so many ways of still having a dream day but without breaking the bank though and here are my top tips: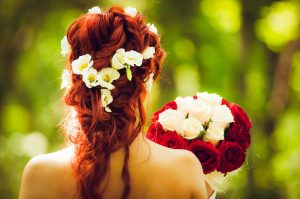 Choose artificial flowers! You can still having stunning bouquets and centre pieces but if you choose artificial flowers, they will last a lot longer and be a lot cheaper.
Choose a pre-loved or sample wedding dress. Whilst we all dream of going to somewhere like Kleinfeld and doing the whole bridal consultant experience, the truth of the matter is that there are plenty of pre-loved and sample dresses available off the rack. They may need a little more in the way of alterations but they are amazing value for money. Whether it's going to a charity shop that has a wedding dress collection, or going to a discount bridal store there are plenty of ways to save loads of money on your dress.
Whilst talking about dresses – suit rental can be cheaper than getting new suits, but again consider pre-loved. Whlist there is a smaller amount of suits available compared to dresses, there are some available if you know where to look. Another option is to consider high street stores. Places like Marks & Spencer or Top Man do a great range of suits and you can get great suits at a great cost.
Food – a controversial one, but do you need a formal 5 course sit down dinner? How about finger food or a buffet, or cutting down the number of courses. Years from now people will talk about the dress and the venue – but I promise you I cannot remember what I ate at a single wedding I've ever been to!
A controversial one now – drink! Do you really need to provide drinks on arrival or cocktails available all evening. It's understandable to want to be able to give your guests something to toast you with, so perhaps a glass of bubbly for the toasts etc, but then perhaps you can just have a bar and they can buy their own drinks for the rest of the evening.
Venues are what the vast majority of your budget will go on. Make sure that you are getting value for money and getting everything you hoped for and at a fair price.
The key thing to do when trying to save money on your wedding, or anything in fact, is to shop around. From photographers, to venues and dresses to suits, make sure you compare like for like and ensure you are getting the best deal. Visit website confetti.co.uk for loads of great ideas about all things wedding which will give you ideas, inspiration and things to think about which you probably would not have thought of before hand. Most important of all, enjoy your day – remember that no wedding goes without even a tiny hitch and your day can never be 100% perfect, but enjoy it for what it is and have a wondeful wedding!