One of my friends got married last month. It was a beautiful day and she really did look like a princess. I knew her and her now husband had a wedding budget for their big day, so I wanted to find out how they planned it and how they put together such a beautiful day for half the UK average price! Are  there such things as cheap wedding packages? Over to Sara….
So I know it's almost impossible to do weddings on a budget, but I love a good deal, so I was determined to get what I… (sorry, we) wanted for the best price possible.
I started off by creating a spreadsheet (I'm a big lover of excel) so that I could list everything that we wanted and needed, including little things such as place cards (the cost quickly adds up), to things that one might normally forget, like paying for the registrar!
The Date
The most important thing was deciding when to get married. Both myself and my now-husband have a lot of friends who are teachers, so we thought school holidays would work best. I always liked the idea of a summer wedding, so it was decided that summer holidays would be ideal, although expensive. If you are looking to go cheaper, October through to March is normally the best as there is less demand, but remember that winter weddings can still be just as beautiful; after all we do live in England where weather is not guaranteed!
The Venue
Once you've decided a date, venue comes next. For us it was pretty easy as the first place we went to was the one we decided to choose! Based on your venue you will have to use that particular registry office, and each registry office has different fees, so watch out for that one! You will also need to give notice of marriage at your local borough, NOT the registry office's borough, and that costs about £35 per person, but it can vary depending on circumstances.
The Photographer/Videographer
Now all the important things are out the way, you can start being creative and thinking about what theme you want to go for. You're going to want to decide if you want a photographer or videographer, or even both! We just went for a photographer, but were lucky that lots of friends took videos which are lovely to look back on. You need to think about how many hours you want the photographer there for; do you want just coverage for the ceremony and reception, or from when you are getting ready through to the throwing of the bouquet? The more hours they are with you will increase the cost, and you will normally have to pay for them to eat (after all it is a long day for them too!)
Entertainment
One of the things we decided to go full out for was our DJ, as evening entertainment is something that is usually talked about for weeks after. We went for the DJ that was recommended by the dress shop, and only met with him. He was pricey, but he delivered. We were fortunate enough to see him at a wedding a few weeks before our own and we knew we had gone with the right choice. He knew exactly what song to play at what time and how to get our guests on their feet. Alternatively, you may decide to go for a band, however these will charge more.
The Dress
The dress… I'm not going to lie. When I went dress shopping I was oblivious as to how much wedding dresses cost. I went in with one budget, and left with another. After trying on what felt like hundreds of dresses I knew I had found the one, although the one also came with a few more zeroes than I was hoping for. I left the shop and slept on it, and visited another shop, but again, I kept going back to that dress. After ummming and ahhhing for ages I decided that if I settled, I would always regret it, so although it was over my budget, it was my dress and it was actually the average for what a bride usually spends on a dress. (always remember that you are likely to have to pay for alterations once you receive the dress so try and budget for that too!
The Flowers
It felt like every time you mentioned the word wedding, prices just tripled, and then if you threw in the word bridal, it would triple again, and I refused to pay £180 for a bouquet that would have died by the end of the day. I did a little bit of research in to fake flowers, and came across a site called Petals Polly Flowers. I contacted them stating I was a little wary however they offered a love it guarantee, so went ahead and ordered the bridal bouquet and top table flowers, as these were the biggest one. When they arrived, I was over the moon and so impressed with the quality, so decided to order the rest. They looked incredible and we have been able to keep them after the wedding which is a lovely keepsake, whilst also only pay £180 for all of our flowers, including buttonholes and bridesmaid flowers. That was a cheap wedding package – particularly in comparison to real flowers.
Hair and Make up
For me this was an easy decision as one of my friends had got married a few years ago, so I decided to go with the same lady, and when I did my research everybody seemed to charge roughly the same price.
Cake
The cake is one thing I am so glad we didn't splash out on. The day after the wedding I went to my parent's house and saw that they had the whole cake as nobody had even touched it at the wedding. It seems to be that people just don't eat cake in the evening!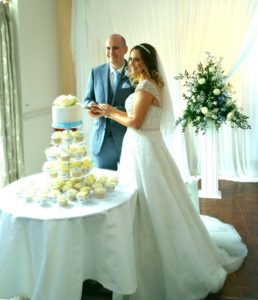 Decorations
You could go crazy with all the decorations available for a wedding, so try and keep it simple. Sometimes if you go all out it can end up looking tacky, whereas simplistic is still beautiful. We bought things as and when we saw them so managed to get some decorations in the Christmas sales, some things from Ikea, and a lot of other things were given to us. We were fortunate that chair covers and basic table decorations were included with our venue, however we decided to fork out and pay for a few extras such as ceiling draping and a backdrop just to give the room a nicer feel.
Total Cost
Overall, I genuinely believe we managed to do our wedding on a budget. On average people in the UK spend £27,000, with that figure increasing to £38,000 for weddings in London. We managed to pay just under £14,000, and that figure includes everything. If you really want to, you can do it cheaply… well as cheap as a wedding can be…!
This is what we paid:
| | |
| --- | --- |
| SUPPLIER | TOTAL |
| Venue | £7,017.75 |
| Registry Office | £553.00 |
| Marriage Certificate | £70.00 |
| Hotel | £191.00 |
| Photography | £1,090.00 |
| Florist | £161.25 |
| DJ | £695.00 |
| Cake | £210.00 |
| Centre Pieces | £45.00 |
| Wedding Rings (deposit) | £159.00 |
| Suit | £627.50 |
| Dress | £1,499.00 |
| Shoes | £90.00 |
| Dress Accessories | £144.99 |
| Alterations | £80.00 |
| Hair/Make up | £270.00 |
| Stationary | £207.89 |
| Draping | £800 |
| Total | £13,911.38 |
Related Posts