I've set myself some pretty serious money goals for 2019, and my intention is to do my absolute best to meet and even smash them, but I am still going to need to spend money in 2019 so how am I going to decide what should I spend my money on? Well, the essentials are clearly going to need to be paid for but what do I consider the "essentials" to be, and then how do I decide on everything else?
Essentials
The essentials are things that are primarily non-negotiable (for example the mortgage, council tax, utility bills etc) but I also include things in this like my TV package and internet (which I regularly haggle over) and my mobile phone contract. Whilst technically I could exist without them – I wouldn't be able to blog and in the grand scheme of things they are small things which I can fit into my budget and they make a big difference to my quality of life.
Also in the essentials category is things like food, petrol, household items such as black bags, cleaning products and cosmetic products such as shampoo and shower gel. I'm also including all things related to the cats – so food, litter and vet checks and pet insurance.
For everything in the essentials category, I am still going to shop around and be frugal and savvy with them (where possible)! Just because I need to buy black bags and cat food doesn't mean I have free rein to go and spend my money on the most expensive variety available – it's a mindset thing after all! I'm also going to use vouchers and discounts where possible – and one of my favourite ways of doing this is by using O2 Priority – which I'm a member of even though I'm not with O2! Find out how here!
Luxuries
I am not for one minute saying that I will not be buying any luxuries or treats, but I want 2019 to be my most sensible money year yet! One of my favourite budget busting finds of 2018 was the Lacura range by Aldi. There are some amazing bargains, and the products that I have tried have absolutely amazing and seem worth far more than the price I paid for them. Whether it's "dupe" products that are designed to be almost identical to well known products and brands that you are looking for, or you are just wanting to try something a bit different – they are bound to have what you want at a price you will love! You can buy things like shampoo which is an essential but feel like you are buying luxury products! It's a win win! It is definitely worth shopping around and seeing if you can find any products that you consider to be a luxury at either a reduced price, or a "dupe" version. Other popular dupe products are coffee pods for coffee machines and candles.

Everything else
I cannot put my hand on my heart and say I won't make any impulse or frivolous purchases in 2019. I'd love to say that I can do that, but I know what I'm like and I would be lying. What I am going to do however is try hard not to do anything silly or to make any money mistakes!
I want my "other" purchases this year to be more about experiences and memories than material possessions. If I see something I want to buy, I will stop and think, and then ask myself these questions:
Do I need it?
If not, do I want it?
What benefit to my life will it bring?
Is it a price I am happy to pay for it – and is it worth that price?
If I spend £x on it, that means I have £x less to spend on something else another time, or to add to my savings – is it actually worth that?
I'm also planning on sleeping on any unplanned purchase for at least 24 hours before making a purchase. This may not always be possible if I find something reduced or on promotion, but knowing that I want to think through purchases before making them will definitely set me up well.
An example of this mindset is that I am thinking of doing an experience for my birthday rather than get presents. I would rather do something different and have amazing memories, than receive things that I don't really want or need and end up cluttering up my spare room. That's not me being ungrateful – just realistic!
Here's to an amazing memory and adventure (and money) filled 2019!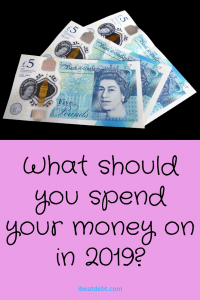 Related Posts