There are very few instances in life where a situation is genuinely life or death. Unfortunately I have faced two of these recently, and they wiped out my savings. I can truly say that I regret nothing though.
As a pet owner, I have always been a responsible one and had pet insurance, made sure they had their vaccinations and regular health checks. I've had life time policies with a great provider, and genuinely thought that this would be enough for me. Over the years, I've made a few claims, and only had to pay the excess and everything else was always covered. Two months ago, everything changed though. My newest cat, Mali, who was a rescue and who clearly had had a rough life, was diagnosed with a diaphragmatic hernia. Thankfully I took out insurance the day after I got her, and the time it was discovered was after the two week waiting period for my insurance company to pay out. The condition was not diagnosed straight away, she had various tests and diagnostics, and maxed out 1/4 of the insurance limit before we even made it to the referral hospital.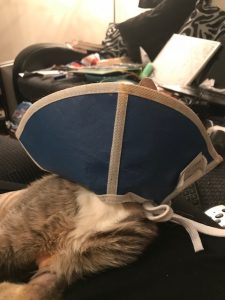 I found out what the problem was, but it was a difficult decision as to what to do. The condition was at that point not life threatening, but it was probably only going to deteriorate. Whilst she was reasonably healthy, how was I going to decide when or if to do the surgery, which was major major surgery?
Whilst all this was going on, and second opinions were being obtained, one of my other cats, Scruffy, was taken ill. She went from being totally normal to completely lethargic and with no energy over night. I rushed her to the vets, and she was admitted on the spot. The following day she too needed to be referred to the referral hospital for urgent treatment. Whilst I knew I had pet insurance, the quotes that they were able to provide were going to completely exceed this. I knew in my heart that I could not live with the guilt if I didn't allow them to try everything possible and allowed them to proceed with everything they wanted to try.
Unfortunately, nothing was going to change the outcome for my cat Scruffy, she had lymphoma and was only going to have a very finite time left and the vets said it was kinder to put her to sleep. It was the worst decision I have ever had to make, and a thoroughly horrible experience, but I knew it was the right thing to do for her. I didn't want her to suffer.
I said goodbye to her on a Tuesday, and the following Monday I was back at the same referal hospital with Mali. The specialists had spoken to my vets and although it was not life threatening, the changes had progressed quickly enough that they felt they needed to do the operation as soon as possible. She had intestines, spleen and part of her liver in her chest cavity! She had clearly been through far more than we ever realised.
Again, the quotes were well in excess of my policy maximum, and again, I didn't know if I would get to bring her home at the end of it. At this point I also was a little worried that the pet insurance provider might query the claim as well – I had only had her two and a half weeks when the first sign of her illness showed up, but I thought they might argue that point as it was only a few days over the  two week waiting period. Thankfully, her operation was smoother than expected and she has made a full recovery! The insurance company has paid out in full for Scruffy's bills, and Mali's first bill (from our vet) has been accepted and the other one from the referral hospital should therefore be fine.
If I didn't have insurance, or some savings to cover the difference, what would I have done though? Even after the insurance pays out in full, I will be left with almost £2000 in bills.
I would have found a way. It really was a life or death situation after all! Whether its's from clearing out some clutter to make some extra money, entering competitions or quiz shows, or even taking out a loan from a company such as Cashlady. People can laugh and mock me saying I'm a "crazy cat lady" – and maybe I am, but they are my family and I would move heaven and earth for them.
After everything I went through with my debt, I would never take a loan out lightly, and if you have no idea if or how you can pay it back, then perhaps it's not the right solution for you, but in a life or death situation, although I struggled with debt before, it is something I would consider. Whilst no amount of money would have changed the outcome, I know I did my best for my girls and that has made the grief that little bit easier to deal with. That, and watching Mali wind up her brother!