Martin Lewis, The Money Saving Expert, has been all over the news today, for super positive reasons. He was suing Facebook because some fake ads had been appearing all over the social network platform implying or even saying outright that he was backing some very strange and dubious investment schemes.
He claimed that these were damaging his reputation and so was suing them. Today however he dropped his legal action HOWEVER it is not because he felt he would lose, but because Facebook had offered to donate £3m to Citizens Advice's new scheme Scams Action Project. They are also going to introduce a button for people to report scam ads.
Mr Lewis, who is more often than not referred to as The Money Saving Expert rather than by his legal name went on to say that:
Scams and the general public
Scams are getting more and more sophisticated, whether they are in fake emails or texts or on online dating sites. I am pretty tech savvy but sometimes even I have to stop and double check an email or message to see if they are legitimate or not. My mum is of the previous generation and she gets very scared and worried when she gets emails in particular. She recently called me in a state when she received the recent TV Licence scam email that went viral. It isn't natural for her to question communications and think she is being scammed. My go to answer to her is hit delete if you aren't sure, and if it is legitimate then the company would contact her by another means, but things like that usually aren't.
I am so pleased that Martin Lewis, The Money Saving Expert, is taking up the fight. People of all ages are falling for scams and it needs someone high profile to stand up and say something and fight for the little people.
Why else do I love the Money Saving Expert?
Money Saving Expert is such a phenomenal website. Not only do they promote latest deals and offers, they have really sensible and thorough advice about all things financial. Whether you want information about freebies, or information about your credit score and how that might affect a future mortgage, the website is an all round financial resource and I wouldn't hesitate to recommend it to anyone else. You can even compare things like credit cards or bank accounts. There is nothing that I've wanted to know about money and spending that I've not been able to find out by visiting Money Saving Expert. He also has loads of really useful guides about getting refunds and general financial advice and tips. Now knowing he is well and truly fighting in the corner for the little people, I feel even happier recommending him and relying on information on his website because I can rely on his information as I trust him implicitly.
The website also has a forum for money saving fans to chat to each other, as well as share things like competitions. He really is a Money Saving Superhero!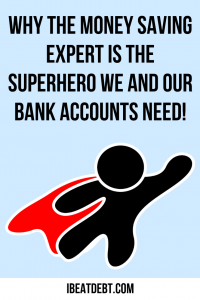 Related Posts