Running is the most cost effective types of exercise! It is very important to take care of your feet considering the fact that they are your foundations. One of the best ways of doing this is by looking for the best running shoes. These shoes are usually among the most important piece of gear. This article will give you tips on how to buy great running shoes.
Shoes often perform 3 functions including:
-Cushioning to minimize the shock experienced with every step
-Protection from hard and uneven surfaces
-Extra support, if necessary, to help stabilize your feet
To buy the best running shoes, consider going to an independent specialist running shop like Run and Become. This is because of the fact that this shop has staff who are experienced runners. The staff will look at the shape of your feet and watch you running or walking in different shoes from different companies to find a shoe that has the right support and level of cushioning.
They will also find out why you are running. Are you doing it for fun and fitness? Or are you training for an event? The answer to this question will help the staff find shoes that will suit your needs. There are shoes specially designed for off-road running. Watch this video where Tarit Adrian Stott from Run and Become in Edinburgh as he gives you tips on how to choose running shoes.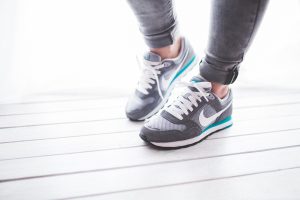 It is all about you. When looking for good running shoes, ask for recommendations from people you trust and read reviews. However, keep in mind that just like any other product out there, what may be good for your friend may not be ideal for you.
Also, remember that a certain shoe can have a 5-star review but may not be the right shoe for you. Your feet will determine whether or not a certain pair of shoe is ideal for you. So, try on different models of running shoes before making your decision.
Correct fitting is very important according to Orthotic Shop. Running shoes are usually bigger than regular shoes. A good running shoe allows for more space at the toes to allow your toes to move freely. Therefore, don't be surprised if you end up getting a shoe whose size is bigger than normal. Look for a running shoe that fits snugly around your midfoot and heel to prevent movement of your foot in the shoe.
If possible, take your old shoes with you when you go shopping for running shoes. This is due to the fact that these shoes are an indelible footprint of all your running. An experienced salesperson can look at your old shoes and determine your running style. This makes it easy for him or her to know running shoes that suit your style right away.