Saving Money
Saving Money is about so much more than making sure there's some money left in your bank account at the end of the month. From ways of saving money by living frugally through to automated apps that save for you, I'm learning a lot about saving money and I'm excited to be sharing this content with you here!
Top Saving Money Content:
How can I save money without trying?
Have you heard of Plum? It's a smart little system that lives in your Facebook Messenger, but connects to your bank account. Every few days it runs it's sums and transfers money to a savings account for you! It's free to join, and you can earn £5 using my referral link, and you don't even notice the money going!
Find out more —–>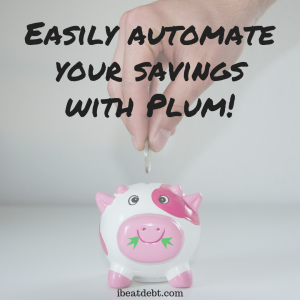 I want O2 Priority but I'm not on O2!
Do not fear! In this post I tell you all about how to sign up for a free O2 sim and still keep your phone on its normal network. It means you can access all the freebies, competitions, deals and discounts that they offer, whilst staying connected to your current provider!
Find out more —–>