Any minute now, retail and dining establishments are going to be re-opening and we can get back to some sort of 'normality'. One of the things that I know has been missed most by members of my team is a good coffee. Whether you get one on the way in to work, or like to pop out on a break or at lunch, I know it is something that many people across the country are keen to get back to. During the pandemic, a lot of people have had financial concerns and worries and so I'm keen to help people get back those things they've missed, but help them to save money at the same time. That's where the Costa Coffee Club comes in!
The Costa Coffee Club is a loyalty rewards scheme for your favourite Costa beverages! It's free to join, and you can earn 100 points just for joining and registering your details. You can join on the Costa website, and you don't even need to have picked up a card from a store, as you can use the app as your card too. Use the card or the app every time you make a purchase and you will be rewarded with 5 points per full £ you spend. Each point is worth a penny, to use on future purchases.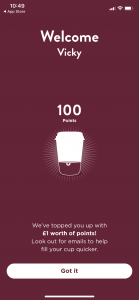 Other ways to earn Costa Coffee Club points
If you use my invite code HNKTP we both get 200 points when you start using it! From the app you can invite friends and share your invite code and that's a great way of earning extra points. Add that to the 100 points for signing up and you have already earnt a free coffee without having to leave home so make sure to highlight that to your friends! Don't forget – you don't have to spend it on coffee – you can use it for other beverages too! I for one don't like tea or coffee, but a nice hot chocolate on a winter's day is a fabulous treat!
You can scan the QR code at any of the self service points at the Costa Express locations too when you make a purchase, so that is another thing about the Costa Coffee Club to not forget!
Once you are signed up, keep an eye on the app and your emails for additional bonus points and offers. You might also want to leave your notifications on on the app for the occasional offers and deals which may also pop up.
Occasionally (particularly around Christmas) there are competitions where you can win points as well as other great prizes if you scan your card or app when making a purchase.
Important things to note
You can only earn points if you present your card at the time of payment, or if the QR code on the app is scanned at the point of purchase. For stores that don't have scanners, you can ask for a receipt and get your points added at a later stage!
You can't use the card or app with any other discount card.
You cannot use the points as part payment for an item – you have to have enough points to pay for the item in full.
You can't earn points on the purchase of gift cards.
As a member of the Costa Coffee Club, you can jump the queues! Order in advance and collect your order without having to queue! Just remember that if you are late, you risk losing your drink. They will hold it until 15 minutes after the estimated delivery time, it will be discarded and you will not be able to get a refund, so check the traffic before you order!
You can't redeem your points at Costa Express locations, but don't forget to scan that QR code which is displayed as your drink is dispensed in order to earn your points. Wombling is a habit of saving money by collecting other people's receipts and using them to earn discounts and savings, and it's not unheard of to scan someone else's QR code if they don't claim it (but just remember to be quick)!
You will lose your points if your account is inactive for 12 months, so don't forget to spend any you have and get that free caffeine (or caffeine free) fix!
If you want to streamline all your cards and payment methods, you can add your Costa Coffee Club to your Apple Wallet (iOs) or Google Pay (Android).
To be honest, the Terms and Conditions are pretty standard, and nothing overly surprising, but I just wanted to flag a few things to you!
Other useful Costa Coffee information
At the moment Costa aren't open for sitting in and having drinks, but more and more outlets are opening for take away and drive-thru. Costa is also available on Uber-Eats if you are living close enough to one of the outlets that is on there. To check which ones are delivering click here and don't forget you can get other hot and chilled drinks as well as yummy treats via these methods too.