What is Virgin Red?
Virgin Red is a rapidly growing in popularity reward and loyalty programme which rewards you for all your engagements and transactions with Virgin branded companies, as well as giving you lots of other opportunities to earn points, rewards and prizes. The app is free to download and you don't have to be a customer of any Virgin brand to join.
Each month has a theme, and this month (June 2020) it is sport, so some months you might find the prizes and rewards more relevant to you than other months, but I personally like how they switch it up.
How to join Virgin Red
First step is to download the app from the App Store or the Play Store. You can sign up using Facebook or by using your email address. You will receive an email to confirm your account, and once you click on the link in it, you can get going by logging in to the app.
If you are an existing Virgin customer on any of these platforms, verify your account to earn extra points:
Virgin Mobile
Virgin Money Credit Card
Virgin Active
Other Virgin brands will hopefully be coming to the platform too, so if you are a customer of any of these, it is worth registering that in the app, and they will let you know when they become eligible to verify:
DS Virgin Racing
Virgin Balloons
Virgin Books
Virgin EMI Records
Virgin Experience Days
Virgin Games
Virgin Holidays
Virgin Hotels
Virgin Limited Edition
Virgin Money Giving
Virgin Pure
Virgin Sport
By verifying your account you can not only earn those extra points, but also gain access to verified member exclusive offers.
What do the points get me?
In Virgin Red you earn points in order to open the Vaults each month, and these offer you chances to win prizes or gain you access to other exclusive offers. The points reset and the Vaults refresh each month so it's worth logging in and playing regularly. Small tasks such as uploading a profile picture, and completing your profile information can all earn you extra points. As you earn more points, you will be told which offers and competitions you are now able to enter.
In the screenshot below, you can see that I currently have 275 points earned this month and it is 13 days until the points refresh. I can also see that I have earned enough points to unlock the vault to enter the competition to win 1 of 50 Peppersmith Mints, but I need to earn anoth 275 points before I can enter the competition to win 1 of 10 Kind Bar Boxes. There are also opportunities below to earn more points in the form of quizzes and activities.
In the quizzes there is often a link through to a page which has the answer on it, so it's quite easy to get the points, and after each activity you are told how far you are away from unlocking the next vault.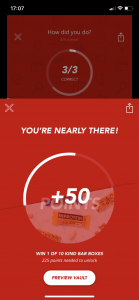 Other Virgin Red perks
Through the app you can also access loads of special deals and offers which don't require you to be verified, or take part in activities. You can also stream Virgin radio direct through the app too.
You can also earn extra points by referring friends, in fact you can earn points for the first 10 friends who sign up and unlock a vault each month, and at 50 points a time, that's 500 free points a month. If you want 50 free points on joining up, my Virgin Red invite code is MHTSA3. In the words of Maui "You're Welcome"!
Keep an eye on social media too (they are active on Twitter as @VirginRed, Instagram as @virginred and have a Facebook page), as occasionally there are bonus codes (a bonus code for June 2020 is RUNNING which gets you a bonus 50 points). Beware though, these codes do expire, so you can't just trawl through their social media posts and enter all the old ones (not that I would have tried that *looks at the floor sheepishly*)!
There is also a Virgin Red community which has three main sections:
I have a question about Virgin Red – a help section where you can reach out to other members for help and support
I have an idea for Virgin Red – a place for you to share your ideas and suggestions for improving Virgin Red
I want to talk about Virgin Red – a place to connect with other Virgin red members for chat
I'm pretty new to Virgin Red, so this is just a brief overview of what it is, what it gets you and how to get involved. As I use it more I will update the post and share more information and bonus codes as I find them, but so far so good and I would definitely recommend downloading it!