Single use plastic is one of the biggest concerns of mine at the moment. Every time I try to cut down on my usage, something else comes along which has a disproportionate amount of plastic in or on it and I end up feeling like a failure. Plastic is dangerous to wildlife, and it is damaging our planet. Whilst I wouldn't call myself an eco-warrior, it is something that I am passionate about and think we all need to do our best to try to cut down where possible. I'm not foolish enough to say that we need to stop using it immediately – I don't believe retailers (or us) are ready for that, but here's a round up of my favourite ways of cutting down on your usage of single use plastic – without breaking the bank!
Reusable drinks bottles and cups
Whether you drink hot drinks or cold drinks, getting yourself a reusable drinks bottle or cup will save a lot of plastic and resources. Some coffee shop style retailers even offer you a discount for using your own mugs, so you can easily earn back your initial investment, but even if you aren't saving money that way, you are still helping to be green by using your own cup.
Using cardboard over plastic
Using eco-friendly cardboard boxes in your packaging will help the environment and it doesn't have to cost the earth. More and more retailers are turning to specialist companies in order to minimise the required packaging materials that they need to use. You can easily apply this to anything you send out, whether you've had a declutter and are selling bits and pieces on eBay intermittently, or if you have a full on reselling business which requires a constant supply of packaging materials. The great thing about cardboard is that it is easier to recycle, or even reuse. My cats in particular love a good cardboard box, and in fact, they prefer them over any expensive cat toy I have ever bought them over the years.
Say no to plastic bags
We all know the drill. The 5p bag charge was bought in to reduce the usage of single use plastic bags. Some retailers don't sell them at all, which in my opinion is great, but what other options do you have? Well I am guilty of having to buy a bag from time to time – but I buy a bag for life or a bag which I know I can reuse. I tend to use a backpack most days anyway, as I find it is better for my back, so I can usually fit most if not all of the shopping I need (bearing in mind I live alone) into my bag without have to buy additional bags. Some shops will have a stash of cardboard boxes that you can use instead of bags as well. My top tip is to keep a supply of bags – whether they are bags for life, or reusable canvas/tote type bags in your bag or car. I usually forget to take any out the house with me in the morning, but if there are spare bags in my bag or car, then I'm usually set for any shopping I need to do when I'm out and about.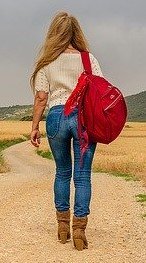 What are you favourite ways of cutting down the amount of single use plastic that you use? Let us know in the comments!