If you are here you have probably heard about 02 Priority and want to get your hands on it! I was the same. I am a frugal and thrifty being, and I enjoy shopping around and saving money where possible. One of my favourite ways of getting freebies and saving money is by using O2 priority – and you don't even have to be on O2 – there is a great little hack and in just a few quick steps I'll show you how!
Firstly, apply for a free O2 sim by clicking a picture or one of the links in this post.
It will take a few working days for your sim to arrive, but once you get your sim through, put it in to your phone. Using Wi-fi, download the O2 Priority app from the app store or Google Play Store (the app download is free) . You can register the app on that phone as you now have an "O2 account". Once you have done this you can remove the sim card, although I would suggest you keep it safe somewhere in case you need it again. You can then put your normal sim card back into your phone and still retain access to all the great money saving offers and freebies available to O2 customers! 🙂 You will need to have your phone unlocked to all networks in order to do this, so it is worth checking with your Network if this is possible or if you will need to pay (if you are not within your minimum contract period the network shouldn't be charging you and they may not charge you anyway). If you are going to be using the freebies and offers regularly, it is definitely worth doing!
I would recommend you check the app on a regular basis. I've had free chocolate, many different lunch offers and got some tickets to concerts before they've gone on general sale (I love the O2 presale – I've gotten early tickets to acts such as Maroon 5 and Westlife, but there are often O2 Presales to a vast majority of events at the O2 venues). There really are loads of O2 Priority Rewards and so it's worth that regular checking!
Whilst you may feel the setup is a bit of a fiddle and a faff, once it's setup you don't ever need to do it again. The amount of offers and O2 priority rewards you will be able to access makes it well worth doing it – it really doesn't take long at all! The only thing I had to wait for was the Sim card to come in the post! Just remember though that in order to access the deals and offers, you MUST activate the sim card once it arrives. This only takes a few minutes and is the most key part of the process!
It is also worth remembering that some of the competitions require you to have an O2 phone number in order to enter, so it's worth keeping your sim card somewhere safe, and even putting it back in your phone from time to time, particularly if you are entering any of these competitions as you may well be contacted on that phone number to let you know if you win anything.
Is it really worth getting O2 Priority?
It really is! It can be a bit of a faff waiting for the sim, and setting up the app, but it has some amazing benefits and offers which are more than worth the effort! Whilst the legendary £1 Boots meal deal is no longer (that kept me in Monday sandwiches for a very long time), there are loads of other ways to get the most of it.
My favourite things about it are:
O2 Priority Tickets allows you to access O2 presale for various events at O2 venues. This was particularly helpful for me when I lived in the South East as the O2 in London was one of the easiest and best concert venues for me to get to, but big events would often sell out fast. Having access to the O2 presale was a really handy solution.
The regular competitions available which you can enter in just one or two clicks
Some TV shows being able to be viewed 48 hours before being aired on TV.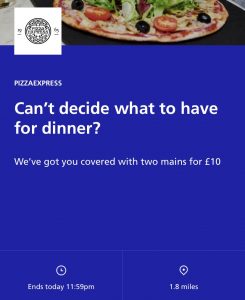 Free stuff! Seriously! Open the deal, go to the relevant store, activate the offer by selecting "Use it now", show it at the till point and get your deal!
One of the most popular new deals is the new Greene King "Free drink for you and your friend at your local, every Friday" offer – and if that isn't enough to entice you I don't know what will be!
Just a little side note – make sure you don't choose to "Use it now" before you are ready (eg at the till in a store) as most of the offers are only valid for 5 minutes and if the timer has run out, the retailer is perfectly entitled to decline the offer.
So to recap – Get O2 Priority in these easy steps:
Check your phone is unlocked to 02 (or any network) – and get it unlocked if not.
Apply for your free sim card!
Once your sim card arrives – put it in your phone.
Connect phone to wi-fi and download the 02 Priority App.
Put your normal sim card back in, but remember to keep your 02 sim card safe, in case you need it in the future!
Want other ways to save money – check out my great Meerkat Meals and Movies hack which can get you 2 for 1 on meals and movies for a whole year for just a few pounds! Meerkat Meals can be used once a week on a Tuesday or a Wednesday, but Meerkat movies can be used  numerous times from Sunday – Thursday each week!