I recently had the pleasure of visiting Wed2B Bristol (which I completely thought was called Wed2Be) for a friend's first wedding dress try on session. We went to Wed2B because the dresses are off the rack – so no long wait times and having to pre-order wedding dresses 6 months or more in advance – you can buy the dress on the day and take it away with you. The dresses are also incredibly budget friendly – with all dresses (except for the platinum collection) being £599 or under! One lady trying on a dress in another fitting room was told the dress was £149 and it was absolutely stunning! You couldn't get a high street dress for that price – budget wedding dress on price, but amazing on quality! Whilst Wed2B was recommended to the bride by a friend, if like me you love watching shows such as "Say Yes to the Dress" then you will know that they were the main sponsor of bridal shows on TLC for a while as well.
Where is Wed2B?
Wed2B is nationwide so it is worth searching on their website when looking for "wedding dress shops near me". They also now have branches in The Netherlands, Belgium and Ireland. Clearly off the rack wedding dresses are getting more and more popular as people don't want to have to order their dresses months in advance, but also may be on a tighter budget. According to the website these are some of their more popular branches:
Can I book a Wed2B appointment?
Wed2B do not offer appointments, it is operated on a first come first served basis. You register on the way in, and then browse the dresses which go from a size 6 to a size 30 (although it is important to note that in bridal, you will need to go up at least one to two sizes from your normal size as they are so small). You can choose up to four dresses and then place them on the rails outside the fitting rooms, with a card with your name on it which you received on registration. You then take a seat and wait to be called into a fitting room with a bridal consultant. We arrived quite early on a bank holiday so there were not many dresses on the rail before us, but we still had to wait quite a while. By the time we went in, brides were being told there was a wait time of up to 2 hours and that they could go away and have some lunch and come back without losing their place in the queue. It is really nice that they have put this in place, as I think it could be very boring and disheartening just sitting there for several hours waiting. There were several dressing or fitting rooms not being used so perhaps they were just low on staff that day – and to be honest, that is my only "complaint" about the day really. More staff would have meant shorter wait times and perhaps more of a buzz in the fitting room area. I would imagine that weekdays or first thing are the best times to go to minimise wait times. At least they let you go away and come back though so you could combine it with lunch or other shopping.
Then what?
Once the bride from your party is called through, you move through to the fitting room areas. The bride has the full 1-2-1 attention of a consultant and they help them into the dresses and make recommendations about accessories or styles. Even though the store was getting busy, the bride in my party was not made to feel rushed or pressured. After trying on each dress, they come out from the cubicle and we could ooooh and aaaaah to our hearts content. We took photos and chatted through each dress – including what we liked and disliked about each. At no point were we made to feel rushed or hurried. The consultants clearly understand their role in a bride's wedding and were patient and helpful.
The bride I was there with was adamant she didn't want a strapless dress, however the third one she tried on was strapless, but the consultant advised that straps could be added, and even had some sample ones to hold up to the dress to help you get the right idea. Although this was most definitely not the dress for her, it made her realise that she had ruled out loads of dresses unnecessarily and that perhaps after lunch we should come back and try more on. That was until the fourth dress was tried on. The sounds coming from the other side of the curtain made us realise that something special was occurring.
As she came out from behind the curtain, we knew she had found her dress. She couldn't stop swooshing and was absolutely grinning from ear to ear. She looked absolutely stunning! Clearly I can't give too much away as I don't want to ruin it for the bride and her guests but safe to say she found a perfect dress which she was able to walk away with on the day.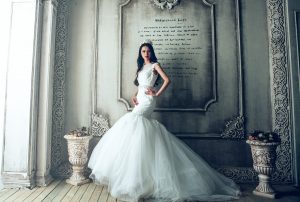 What wedding dress brands are available at Wed2B?
The brands and ranges currently listed on the Wed2B website are:
Anna Sorrano
Bellami
Heidi Hudson
Infinite White
Platinum Edition
The Signature Collection
Viva Bride
What about upselling?
As with most types of retail, there was an element of upselling at Wed2B. They also sell accessories as well as key things like hoops and underskirts and even boleros. Clearly you could choose to source your own at another time, or even go back, but I can see how some brides may want to make those purchases there and then so they know exactly what the dress will look like on the day without having to source those additional bits and pieces another time. It also means that you can ensure that everything matches perfectly, as sometimes things don't turn out to be the exact colour you are expecting or the tone isn't right. Another item they have recently introduced is the Wunderskirt which is shapwear underwear designed to be worn under a skirt such as with a wedding dress.
Depending on your budget and the time you have before your wedding, you may choose to make a purchase on the day, or go away and come back another time (this may depend on how far you live from their showroom as well). It is important to bear in mind that if you decide to go away and come back another time, any dress you have seen and tried on may not be available on your next visit, and as they can't order things in, it is a real gamble to take this approach.
They also sell storage options such as dress bags and a Wed2B wedding dress box, which may be an additional cost you haven't thought of – but compared to the savings you are making by going there, these are small and in my opinion, a valuable use of money.
Wed2B Alterations
Wed2B do not offer an alteration service, as the dresses are bought as is, off the rack. There is no ordering in – what you see is what you get. What they are able to offer however is a list of local wedding dress alteration specialists so you can make contact with one of their recommended dressmakers or tailors.
Wed2B Bridesmaids and the Bridal Party
As well as catering for the bride, Wed2B also cater for other members of the bridal party. They had a large selection of bridesmaid dresses in particular, as well as dresses suitable for flower girls. As you may want several of the same dress for all your bridesmaids and maid/matron of honour, you are able to order bridesmaid dresses from Wed2B and they typically take 14 weeks, so you may have to plan further in advance for these dresses than for your wedding dress. You can search on the website by colour, as well as by name if you have already seen some you like and are telling other people to look them up (for example the Wed2B Haven dress is a super popular choice). The bridesmaid dresses are also very reasonably priced (£79.99) and are suitable for other events such as proms.
Conclusion
I loved the experience at Wed2B even though I wasn't the bride. I would definitely recommend it to other brides for getting their wedding dresses. It not only saves you time and hassle as you don't have to order your dress months in advance (which is perfect for short engagements) but the prices really cannot be argued with. I would recommend perhaps going during the day during the week, or going first thing to minimise waiting times, but that is really a minor factor in an overall wonderful and very special day! They also regularly offer competitions online to win a wedding dress, or if you have already purchased from them, win back the cost of your dress – so what are you waiting for?
Top tips for your bridal appointment
Take a few people with you whose opinion you value, but also who will be 100% honest with you. Even if you think you have found your dress you might want a bit of reassurance or encouragement, but equally you don't want to be told something looks good if it doesn't. Don't take too many people either though!
Set a budget and stick to it. Do not try on things over your budget, even just to "get a feel" for it. If you fall for that dress you are only setting yourself up for failure and disappointment.
Size is just a number – it is well known that bridal dresses are notoriously tiny. Why they can't just make them bigger I don't know, especially as everyone knows it! You will need to go up at least one to two sizes, and possibly more depending on the fitting of the dress. There is no point squeezing yourself into your usual size 12 if you can't breathe or aren't going to have enough time to lose that weight before the wedding if a 14 or 16 fits now! You can get it taken in easily after all if you do plan on losing a bit of weight.
Wear sensible underwear – a strapless bra is ideal, in a nude or white colour. If you think you will be wearing Bridget Jones style pants on your big day, wear them too, as it will more accurately show you the silhouette you will get.
Pictures online may not do a dress justice, or equally they might make a dress appear to be better than it is. Don't pin your hopes on one dress, but equally, don't rule one out based on photos either. The dress this bride chose looks nothing online – but in real life it is beautiful!
Please note that the pictures on this site are stock photos as the bride tried on several dresses similar to what she chose and I don't want to give anything away. Whatever style of dress you are looking for though, Wed2B will have something for you! Also, this is NOT an affiliate post – I just wanted to share this great shop with my readers!