Regular readers or visitors of the site will know that I live alone and have been working from home since March due to the pandemic. I am very fortunate that I live in a house with a small garden, which is a blessing everyday, but more so since I have been at home pretty much full time this year.
Since being home, I have taken a new appreciation of having a house, rather than the one bedroom flat I moved here from, but staring at the same walls for months on end has meant that I have done some decorating and interior design to freshen the walls and space, as well as to prevent me from going crazy staring at the same walls day in and day out.
Here's some of the budget busting home transformations I have done this year:
Bedroom
In my bedroom, I painted a feature wall. Three of the walls were a light grey, and the last wall had a feature wallpaper which the previous owners of the house had put up. I don't spend a lot of time in my bedroom awake, but I was getting bored of it, and so I decided to paint over it. I chose a dark grey and painted it out. I have to say it has made a real difference to the space. It is much calmer and more neutral, which means it is more peaceful and more conducive to sleep.
Lounge
Once the initial lockdown was over and trades people were allowed back in people's homes, I had a trusted friend and handyman come and give me a quote for some built in cupboards in my lounge. I had a cupboard in the kitchen which was a complete waste of space, and I knew there would be a better way of using the space, so I decided to transform my downstairs storage. You can find out more about it here.
Kitchen
Whilst this was not technically this year – transforming my kitchen for less than £100 when I moved into the house is one of my proudest achievements. I used a combination of tile paint, tile stickers and furniture paint (and primer obviously) and made the space far more fitting to my tastes, and it really brightened the space. Find out more about my kitchen here.
But I don't want to decorate or do DIY…
Whilst all of those were relatively cheap projects or tasks, they did however involve some work and effort. I can appreciate that not everyone has the time or ability to do these though (I question whether I have the skills to paint properly but it's only me looking at the walls so I make do)! That is why sometimes you need to look at smaller interior design choices to freshen a space.
In my spare room, I bought a new throw for the spare bed and got some new cushions and now the room feels more inviting (should I ever be allowed guests again) and it is a much nicer space.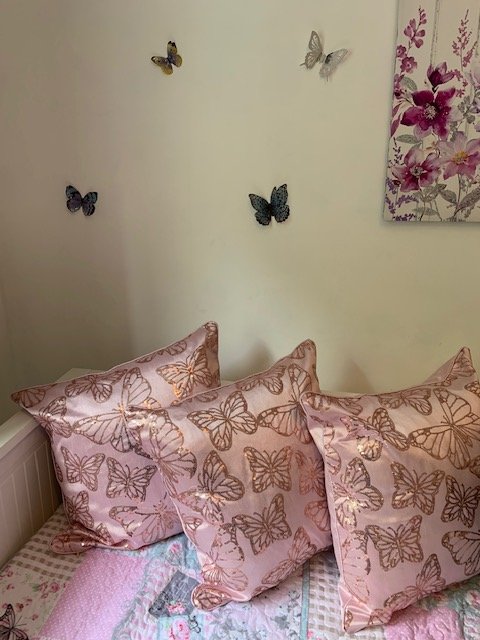 The throw and cushions match the theme of the room, including the artwork on the wall without overpowering it. Artwork is a great way to change the look and feel of a space without much physical effort. It also really doesn't have to be an expensive when there are loads of great websites which offer very affordable pieces which will match every style and budget.
I particularly love canvas prints. Whether you are looking for animal pictures, celebrities, portraits, architecture and city scapes or art work, canvas prints can be a very affordable option to bring style to your space without needing a bulky frame.
I'm also a big fan of posters. They are now available in a much higher quality than the posters we used to buy from HMV or Woolworths as kids for our bedroom walls. Again, you can buy them in a range of styles and subjects suitable for any space. I personally adore this elephant one. I've been to Kenya several times, and my first trip there was on safari and the animals I saw blew my mind. In my old home I had a mural painted on the wall by a local artist, but obviously when I moved I couldn't bring that with me. Not only is a poster a lot cheaper, but I would have been able to take it with me when I moved.
That's actually one of the other many things I love about art. Not that I am ever planning on moving again, but if I were to move again, I can't take painted walls, cupboards and tiles with me, but art work can be transported from place to place. It also means that you can change it regularly without much effort as well, so if you decide you need a change a year down the line, it is super easy.