It's no secret that camping is one of the most fufilling and money savvy ways of creating a holiday for you and your family to enjoy. It gives you the chance to experience the great outdoors with those that you love, get down in the more rugged way of living, and also help to take your mind off of and away from any other issues that might be going on in your life for a short while.
I would recommend you start off camping domestically, but once you have the kit and are more confident about what to do and what to expect, camping abroad can be a great option for a budget friendly international holiday.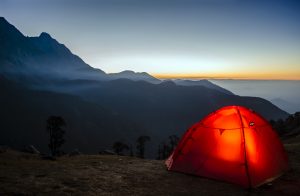 Camping gear
The first thing you will probably need to think about is your actual physical camping gear. This is often an initial expense which can put people off the idea of camping, and to get decent quality kit it can be a little more expensive than you'd originally imagined. The bonus of that spend is that you have camping equipment which can be used over and over again, and these items will pay for themselves with the amount of great trips you can have with them. If you are planning on getting into camping, it is definitely worth spending that little bit more to get that higher quality gear, but if you aren't sure whether it is for you, you could consider renting the equipment. There are several companies which offer rentals, but you may even have friends or relatives who may be able to lend you a tent and the other bits and pieces which you require. Just remember that there are so many different gadgets and items that you could purchase to make your experience that little bit better or easier – but perhaps you should consider trying camping first before committing to buying all these expensive bits and bobs in case you decide it isn't for you after all.
Here's our recommended list of what you need to take with you on a camping trip:
A tent (ideally a double layered one)
Stakes
A groundsheet
Sleeping bags (suitable for the weather conditions you may encounter)
Sleeping bag liner
Sleeping pad or mattress
Camping pillow
Headlamp, torch or lantern
Optional items include:
A hammock
A camping rug
Travel wash and a bowl
Clothesline and pegs
Extra cord
Mallet (for stakes)
A multi-tool like a Swiss army knife
Duct or cloth tape
Camping table and chairs
Camping clothing
If you are a regular walker or fan of the outdoors, you will probably have most of the clothing kit that you need, however it is worth reminding yourself what you need to take with you, especially if you haven't been for a while or are new to camping.
Lots of layers of clothing
Waterproof trousers and a jacket
Spare clothes, especially socks and underwear
Dry clothes kept separately to other clothes to sleep in
Thermals (particularly if you are camping somewhere where it is likely to get cold at night)
Walking shoes or boots – these need to be well worn to avoid blisters and sores on the feet
Hat, gloves, snood/scarf
Try to pack online lightweight clothing where possible. Sportswear and quick drying materials are also best for a camping type holiday. Cotton and denim can take a long time to dry if they get wet and will be much heavier to carry. If there's any item of clothing that you don't have, look around and see if you can rent or borrow (for example waterproof jackets) but it is also worth checking out eBay, Facebook Marketplace and even car boot sales and charity shops for second hand items which will save you money.
Cheap camping food ideas
One way that you can save yourself money on your camping trip is by pre-preparing meals for the whole family. When you are camping you will have limited resources in the way of cooking, and many people opt for the easy route of eating out rather than planning your food and cooking in the great outdoors. This can end up pushing up the costs massively, which can ruin the concept of a budget trip, as well as the whole point of heading to the great outdoors for your holiday!
Think of meals that can be heated by pan or on a barbecue and easily cooked outside. Just because you are eating outside, doesn't mean you can't have a good meal!
Camping kitchen essentials
Camping cooker, stove or BBQ
Matches
Cooking pots
Frying or saucepans
Cooking utensils
Eating utensils
Crockery (plates, bowls, cups, mugs)
Cooler or fridge
Water bottles
Washing up liquid/soap and a sponge/scrubber
Towel for drying up (quick dry ones are great for this)
Rubbish and recycling bags
Tin opener
Bottle opener/corkscrew
Fire extinguisher
Optional items include:
Grill rack
Charcoal, firestarters or fuel (depending on cooking implement)
Water jugs
Food storage containers/bags
Tinned food
Other Camping Essentials
As well as clothing, tentware and kitchen goods, there are some other bits and pieces which we would recommend you take on your camping holiday. Buying them in advance will save you money, and if you don't want to carry around big bottles of shampoo for example, you can always decant some of the products into smaller containers to minimise what you need to carry.
Normal toiletries such as shampoo, conditioner, shower gel, toothbrush and toothpaste
Any medication you would regularly be taking
First aid kit with additional medication (such as painkillers, anti-inflammatories, blister plasters etc)
Hand sanitiser
Towels (quick dry ones are best)
Toilet paper
Sun screen
After sun
Insect repellent
Tent repair kit
Leisure radio or walkie talkie to keep in contact with other members of your group whilst away in remote places.
Air pump (for inflatable mattresses or bike wheels)
Windbreaker
Spare batteries, portable chargers and all required cables
Location
Wherever you fancy going, you are sure to find a campsite or location where you can camp nearby. If you are on a super tight budget, you can find somewhere local to yourselves or within a short(ish) drive. You could even consider camping in the back garden just for fun. If your budget can accomodate it, you could travel further, both domestically and internationally. The South of France is really popular amongst my camping fan friends, but so are various places around the UK.
By researching your preferred location you can save money by knowing what is nearby as well. For example if there is a supermarket nearby, additional food will be cheaper than if you are limited to the small convenience stores often found on or nearby camp sites.
One of my dreams is to go on safari in Africa again, but this time camp (or glamp) out under the sars (last time I did a safari I was in really nice lodges). There really is nothing quite like the sights you will see when camping. When I climbed Kilimanjaro I saw sights and experienced things that I could never have experienced elsewhere. Camping allows you to get to more remote and peaceful places than any other type of holiday and so is definitely worth considering if you need to get away from the buzz of day to day life.
Camping really can allow you to have a (mini) break without the guilt of spending thousands on a holiday away.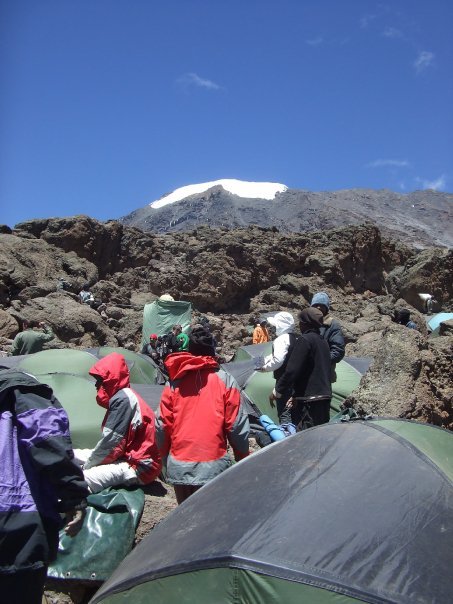 My Top Camping Tips
Here's my top camping trips to make your trip go as smoothly as possible.
Get a double layered tent – the first time I ever went camping we just had a cheap single layer tent and the condensation on the inside meant that you couldn't help but get wet in the mornings – no matter how careful you are!
Check the facilities on offer at the site you are considering. Why do without proper toilets and showers if you don't need to right?
Make sure you know if there are any extra fees such as pitching fees. The last thing you want to do is head off on a thrifty holiday and get stung with extra fees for parking your car or using hot water.
Camping doesn't have to mean slumming it. Not convinced – look into glamping or permanent tent pods. If your budget won't stretch quite that far, ensure you don't scrimp on your mattress, ground sheet and sleeping bag!