I've teamed up with mypropertyidregistry.com to offer you the chance to win one of 10 home security packs! What exactly are they though and what do they do?
It's a well known fact that when items are stolen, the police and law enforcement have realy trouble reuniting items to their owners. This is where a service like My Property ID Registry comes in handy. They are a service which you can purchase (or win) a free home security kit from, and which comes with free worldwide delivery.
Your pack arrives by post (and in my experience this was really prompt even though it was coming from the United States). The serial numbers in your pack area are already assigned to your online account which makes signing up and registering your items really quick and easy.
Once your pack is received, you choose which items you wish to stick your tags on to and then register your items on their website with the ID code that applies to the item.
You can then log in to your account (and the pack gets you 24/7 access to the database and online tools) and provide information about the items you have tagged.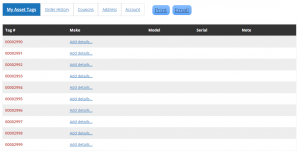 The more information you can provide the better (for example make, model, identifying features such as cracks or dents) the more chances of your items reunited with you if they are lost or stolen.
Unlike a lot of property tagging and security systems, this great system has no ongoing fees or subscriptions. Just purchase the pack and only pay additionally if you decide you want more tags.
Another thing I really like about this system is the lost and found portal. If you find an item which is tagged, you can pop the code into the website in the lost and found portal and then the owner of the item receives an email.
The website provides information on personal safety for people collecting or returning lost items as well, which is another thing which I think is great about this system.
Enter the Rafflecopter widget below for a chance to win one of ten amazing personal security packs!