You've done a clear out at home, and you don't have either the time nor the amount of stuff to warrant doing a car boot sale, so what are the best ways of selling your goods to make a bit of extra cash? One of my favourite ways is using Gumtree. Gumtree is a free ads listing website, and you can use its filters to search for specific items or in a specific area. It's why I love using it for selling things, and here's my top tips for how to sell on Gumtree.
The first thing you need to do is have an account – it is quick, easy and free easy to set up, and will be well worth doing. It means that when you create an ad, any responses come through the Gumtree messaging system and your email address and contact details can remain hidden.
Once you have either logged in or created an account, you can begin.
How to Sell on Gumtree Step 1
Tell Gumtree what you are selling, or browse the categories.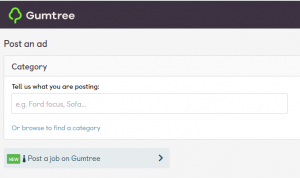 As you begin typing the item, Gumtree will suggest categories for you. This is usually the easiest way of finding the best place to list it. In the example below, I have typed that I am selling a cat bed, and you can see the categories that are being suggested for me.
I have decided that the most relevant category is the top one – Equipment & Accessories – Pets, and so have clicked on "Select" on that row".
Step 2
Enter your location in post code form, your postcode won't be shown on the ad though so don't worry!
Step 3
Describe and list your item.
You will need to add a title, a description, a price and your contact details before the listing can go live. Photos are optional but highly recommended as you are more likely to gain attention and clicks if you have images. Website links and promoting your posts are upgrade options which will mean you would incur a charge. I have never used any of these.
Step 4
Check you are happy with the listing details, click on Post My Ad. The listing will then go live. If you've selected that your phone number is visible on the ad, you might receive contact via that number, otherwise, replies will be forwarded through the Gumtree mailing system and the addresses hidden for your security and privacy.
How to Sell on Gumtree Top Tips
Describe the items in as much detail as you can – highlighting any issues or marks.
Photograph the item in a well lit space, again showing the item off and highlighting any imperfections.
Be prepared that people may want to haggle with you. If you start too high you might get no interest though – so start with a reasonable price and make a judgement call on any offers.
Respond to prospective buyers promptly and with as much information as you can – if you leave them hanging around they are more likely to keep looking for other items.
Always consider safety when selling an item to a stranger. Ideally meet at a neutral location rather than give our your address, but if this is not possible (for example if you are selling a large piece of furniture or electronics) try and have someone with you or check in with them after the buyer has left.
Depending on where you life may affect how many people will see the ad on Gumtree. I found that I got a lot more attention on my ads when I lived in South West London as a lot more people use the site in that area. It is still worth using though – but you may need to consider listing it elsewhere as well to maximise your chance of a sale.
Remember to remove the listing once the item is sold so as to avoid continually receive queries and disappointing prospective buyers.