Making money by being self employed or starting a small business can be amazing, but it can also be really hard. You will see bloggers and small business owners online saying they are making a fortune and it's really easy, and yet those of us who struggle are left feeling stupid or like we just aren't good enough. The problem is that in today's markets, the level of competition is through the roof. Whatever your business or idea is, it's hard to come up with something 100% original. The key to success is promotion promotion promotion! More and more people turn to social media when looking for advice on companies, or even doing research into companies around. Whilst SEO (search engine optimisation is a massive driver of traffic) social media is a massively powerful and yet also under used in some areas tool.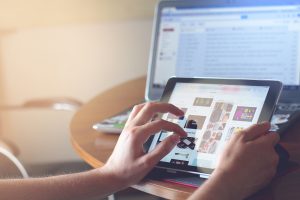 It can be hard to know where to start, but a great place to look is to look at your "competitors" or people offering something similar to what you are offering and see what they are doing? Do they have a strong Twitter presence? How about Facebook? Obviously you can't copy them directly, but there is no harm in being inspired by them. Whatever platform you decide to go for, you will need to stand out. That's where a social media mockup can come in really useful. You can access tools and designs which will help you stand out across all the desired platforms, whether you go for Pinterest, Youtube, Facebook, Twitter or any other social media platform – including those which are popping up and bringing new customers and a new market on an almost daily basis.
Using a mock up is a great way to stand out and get yourself an identity. It allows you to build a brand identity, online and off. They don't have to be just for your social media, but can be translated across to other mediums such as letterheaded paper, or other stationery such as business cards, invites, posters and even labelling or products.A branding and style can make you stand out and make you easily identifiable amongst the crowd and the noise.
If you are going to be having a strong social media presence, make sure that you manage the accounts well. Social media is such a public platform, that people tend to use it when they are unhappy with something. Not that your customers will be unhappy at any time, but if they are, and their queries or complaints are not dealt with quickly and professionallty, all the branding and work will have gone to waste as this can really damage your reputation. Ensure that the times your accounts are monitored is advertised, and try to respond in a timely and helpful manner. Whilst some people use social media for compliments, unfortunately complaints are more common, and being seen to manage that well will negate any negative feedback. It's also key to remember that once something goes online, you can never get it back, even if you delete a post, someone somewhere may well have screenshotted it and so it's key to remember that at all times!