Survey and research sites are a great way to make a bit of extra money if you have a few minutes to spare and have access to the internet. I quite often do surveys if I get to work early, or whilst I am on the bus. I have a few favourites that I'd like to tell you about.
The first is a research site, it is called Prolific Academic. None of the surveys I have done on there have taken me more than about 10-15 minutes and they tell you at the beginning how long you should expect to take. You are only shown surveys on your dashboard that you are eligible for so you won't get screened out. It's worth checking this on a regular basis as studies fill up fast. There is a minimum payout value of £20, but it soon adds up. I have already withdrawn over £160 from these guys! A lot of people love this site as the studies are usually about something meaningful rather than just market research, as well as getting paid of course. Formore about Prolific – read my post here. 
One of my favourite survey sites is Pure Profile. I've not used this as much recently, but I have had several withdrawals over the years from them. You can sign up to get emails when there are surveys that you are eligible for, but it's worth checking in to the dashboard and there are regular things coming up. These include surveys, questions and activities. You can also earn money just by updating your profile and clicking through instructions. Some of these tasks may only earn you 5-10p a time, but it does soon add up.
Mintvine is another great survey site.  They have surveys, polls and other offers where you can earn points by signing up for services and products. The surveys also tell you how long it will take and what you can earn, even if you are screened out. Completing a survey also gains you entry into their bonus points draws.
Swagbucks is a great site where you can earn points (also known as Swagbucks) by completing a wide variety of tasks. These include surveys, watching videos, playing games and shopping! There really is something for everyone on this site.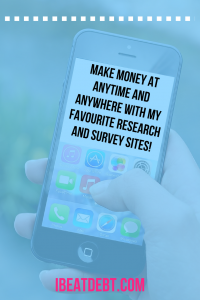 Related Posts