I'm not going to lie, Northern Ireland was never somewhere on my radar as somewhere I particularly wanted to go. I think when the rest of the UK is on our doorstop, sometimes we take it for granted. It's cheaper and easier to get to, so there's always another time. I only ended up visiting Northern Ireland to visit a friend who was originally from there.
Belfast is a great city – one with a lot more history and depth than I realised. There's loads of great places and things to do, some of which only the locals would know about, so if you are going to be in town and on your own, it might be worth trying a site like Date Belfast Singles in order to connect with a local who might want to be your tour guide. I certainly would not have known that The Big Fish was a Belfast site if I hadn't been there with a local. It's in the city centre in the middle of a street so it's free to visit.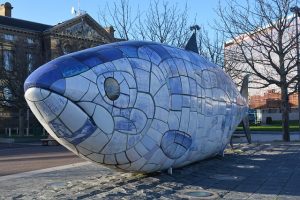 The Belfast Dating Site allows you to connect with other local residents and get a tour guide, but if you are of a more mature age you might want to consider Mature Belfast Dating instead. Whoever you are sightseeing with in Belfast and Northern Ireland, there are loads of things you can tap in to which won't break the budget. Here are some more of my favourites:
Free Belfast Walking Tour – You don't have to book, although it is recommended, this great free tour covers the history that shaped the city, from the Norman Conquest, all the way through to the Insdustrial Revolution and on to modern day. You will visit such places as The Docklands, Lagan River, Cathedral Quarter, Albert Clock and Belfast City Hall, all whilst being accompanied by a knowledgeable and entertaining guide.
If you are a keen cycler, you can make the most of the bicycle rental docks around the city. The first 30 minutes of any trip is free, and it is a cost and budget friendly solution for getting around and seeing the city.
The Translink Belfast Visitor pass offers unlimited bus and and rail travel within the Belfast Visitor Pass Zone and it also gets you great discounts at attractions around the city.
One of the attractions that you can get a discount on is Titanic Belfast. If you are in Belfast, it would be wrong to leave without visiting this historic and interesting attraction. You can tour the shipyards, walk the decks and explore all things Titanic in the city which was her home. The Titanic tragedy is one of the best known maritime stories from across the world, immortalised in films, attractions and books galore, but until you've done the Titanic Belfast exhibition you really haven't experienced it fully.
For the literary fans, a stop to CS Lewis square is another must. It's a public space honouring the local born author CS Lewis. It includes bronze sculptures of characters from "The Lion, The Witch and The Wardrobe". There is also a great coffee bar there, as well as information about other attractions across the city. It is definitely worth a visit and is open 24/7.
If you have time venture further afield, my favourite part of my Belfast and Northern Ireland visit was The Giant's Causeway. This National Trust site is a stunning natural phenomenon and well worth visiting. Adult prices start from only £11 so it's not free but it won't break the bank either!