Thanks to fellow blogger A Dating Dad, I was able to try Hello Fresh for free! For those of you who aren't sure what it is, it is a meal delivery kit service. You are sent weekly everything you need (minus things like water and sugar etc) for your meals and a recipe card for each one which is labelled with a number.
The recipe cards also give you details about how long they will take to cook, so you can plan your time accordingly, for example I don't want to start one that takes a long period of time if I am working late.
You can also access the recipes on the app and the website if you
You can set your preferences and each week that you want a meal box it will suggest a menu for you. You can change this though, removing some dishes, adding other choices, extra portions of others you already have selected, and even paying a supplement for the premium dishes.
You can also order from a selection of sides and desserts for a supplement too.
My first menu consisted of:
Chorizo crusted penne 'n' cheese
Sausage meatball spaghetti
Creamy bacon and mustard penne
Beef fried rice
Hoisin chicken and plum stir fry
I was ridiculously excited about the arrival of my first Hello Fresh box for various reasons. Firstly, I'm fine at cooking but I'm not very creative in the kitchen and having been working from home since March, and living alone, my menu has been incredibly narrow. I am looking forward to trying new things in the kitchen and having ideas of other things I could do.
I am also terrible at buying things with the best of intentions to cook them and then not getting round to it or wondering what to do with it and end up generating far more food waste than I should.
When I do cook things I am also terrible at portion size so Hello Fresh should definitely help with that as well!
As I mentioned above, I live alone and the meals come for 2 or more people, so I will be cooking in the evenings, and then having the other portion reheated the next day for lunch.
Hello Fresh Packaging
I was really confused as to how they could send out food by a courier service, but I was genuinely impressed with the way it was packed and stored. The ingredients which needed more urgent refrigerating were wrapped in an extra layer of thermal material and ice packs. These ice packs are reusable or recyclable which is great, as I am worried about my carbon footprint and waste.
The rest of the ingredients for each meal are in a brown paper bag, which is clearly labelled with the number which corresponds to the number on the recipe card.
These should be stored in a fridge as well, but are less urgent to be kept cool than the other ingredients.
My first Hello Fresh meals
I decided to go for the chorizo-crusted penne 'n' cheese as my first meal from Hello Fresh.
The recipe card explains the steps really well and includes pictures of each of the steps. Firstly grab the bag with the number which relates to the recipe of your choice, and then get the other ingredients out as well. In hindsight I should have read the card properly before I started as half way through I realised I needed water and oil and I hadn't gotten them ready, but that was completely my own fault.
I do not cook from scratch a lot, but I would definitely recommend clearning some space on your worktops as I definitely ended up spreading myself out!
Although everything was measured out for me, I really felt like I was "proper" cooking for the first time in a long time. I've certainly not cooked anything with so many steps for as long as I can remember.
This recipe was rated as medium difficulty on the website, but I had no major issues.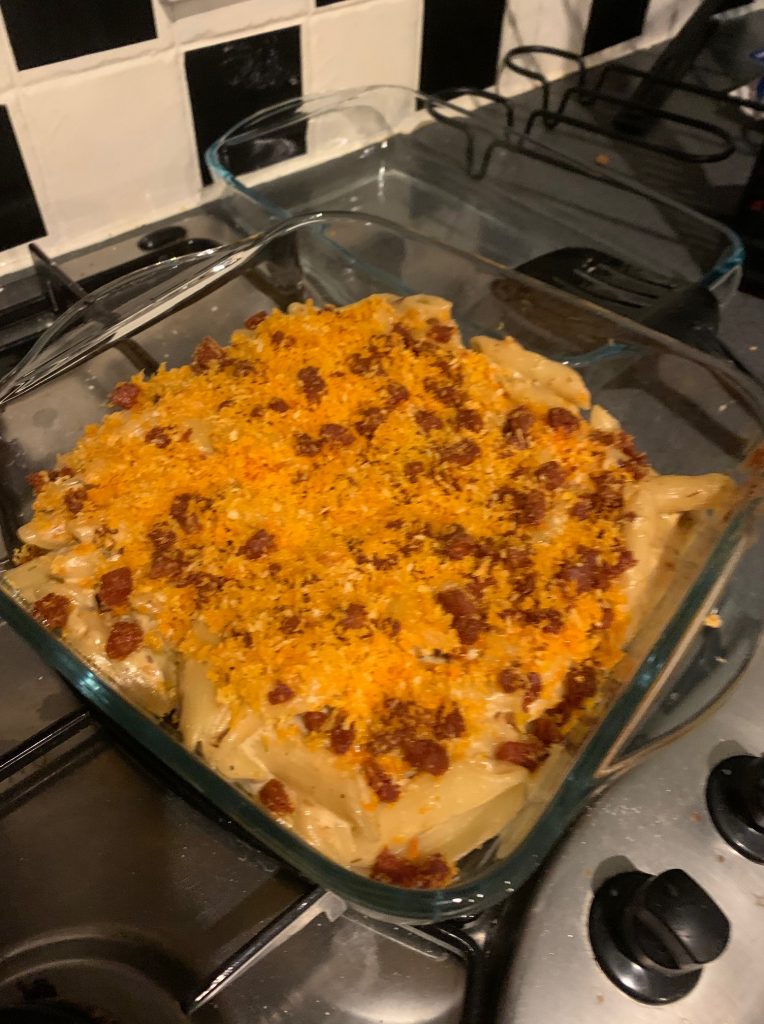 Overall I found the meal to be very nice. One of the steps involved adding a packet of thyme to the sauce, however I found the smell of the thyme to be overwhelming. On tasting the recipe the taste was not as strong as the smell, and it wasn't as overpowering, however if I were to have the recipe again (and I think I would) I would probably only put a pinch of the thyme in, or leave it out entirely. Other than that I have no complaints.
One of the concerns I had was about the portion size. I was not sure what they would be like, but as you can see from my picture above, I need not have worried. The portion was very big and filling. If I had made it from scratch myself, I may well have used more ingredients and had a bigger portion size, but that is part of my problem, and one of the reasons why I wanted to try them out.
The second Hello Fresh meal I tried was the Hoisin Chicken & Plum Stir-Fry. This was a "rapid" recipe, taking only 20 minutes prep time according to Hello Fresh. It took me a little longer, but that is because I was faffing and not entirely sure what I was doing with some of the vegetables (don't judge)!
I felt that the portion was a little smaller, however, I am sure that the portion size is worked out to be a healthy portion. Overall the meal was delicious, and I would certainly never have thought to put actual chopped plums in a main meal, but it really works.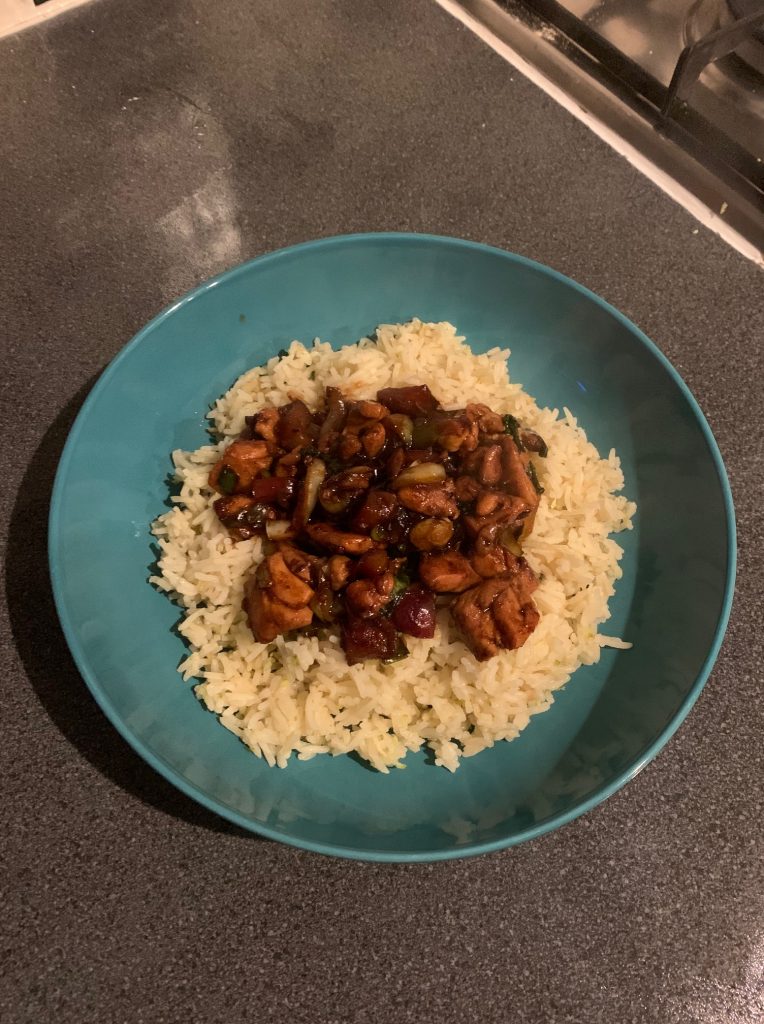 How much does it cost?
Prices for Hello Fresh vary depending on how many people you are feeding and how many recipes you want. I had the 5 recipes for two people selection in my first box, and this would have cost £41.99. Here is the breakdown of prices from the website as at 11 November 2020 and at this time they include the postage in the delivery price.
| | | | | |
| --- | --- | --- | --- | --- |
| | 2 Recipes | 3 Recipes | 4 Recipes | 5 Recipes |
| 2 People | £24.99 | £36.39 | £39.39 | £41.99 |
| 3 People | £32.99 | £41.99 | £56.09 | £60.09 |
| 4 People | £34.99 | £45.99 | £60.79 | not available |
Some people may argue that this is expensive, however I don't think it is too bad. You are paying for convenience, but if like me you want to try new foods, grow in confidence in the kitchen and master portion control, in my opinion it is really good value.
If you are a student, make sure to validate your account via Student Beans or Unidays for a discount as well to make sure you get 10% off every delivery.
I have only cooked two recipes so far, but I have really enjoyed that. As someone who has been working from home since March and also lives alone, it has also helped with breaking up my evenings, and knowing that I can go for a lunchbreak walk the following day and have a great meal on my return which I just need to reheat, and I don't have to live off convenience food has been really great. Whether I want to cook every night for the forseeable future remains to be seen, so my plan is currently to have one box every couple of weeks or so (so one or two boxes a month). I'm hoping the new culinary skills and ideas I am gaining will then be easily transferred to the inbetween weeks.
I have already pre-selected my menu for two weeks time, and I am excited!
I will update this post with more recipe reviews going forward, and of course, be sharing my meals on social media!
If you would like to try Hello Fresh – try my referral code which will give you £20 off your first box. If you use my link I get a bonus too so thank you in advance!
Other meal delivery services
Whilst Hello Fresh calls themselves the UK's leading meal delivery service, but like all things, there are of course competitors out there. Here are the details of some of the other ones I've found:
Bear in mind that especially in these difficult times, there may be local companies which offer similar meal delivery and recipe kit services in your locality. Search online for "meal delivery near me" and try to support a local company if you can!
Have you tried any meal delivery services near you? Let us know in the comments!