This is a very unconventional approach to paying off debt – and I know it won't work for a lot of people. In the end I cleared off half my debt with less than a day's work so I had to tell you about it.
It all started when a friend's dad had been on "Who Wants to Be a Millionaire?" He had won some money and my friend had appeared on a couple of quiz shows as well. I have never for one minute wanted to be famous, but by this point I was in debt management and I felt rather desperate. I never imagined I'd ever get through the audition process, let alone get on a show or even win something, but I had nothing to lose.
Applying for Tipping Point
I looked on a website that lists shows looking for contestants called Be On Screen. They were listing for (at that time) a relatively new quiz show was looking for contestants. It was called Tipping Point, and series one had aired in the UK, and they were looking for contestants for series two. I filled out the form, which did feel a little like a job application and emailed it back. I was called almost immediately and after a chat on the phone with one of the team, I was asked to audition.
Auditioning
I have always found the word audition a weird choice for a quiz show, as I always think of auditions as about acting. The point of a quiz or game show audition is to get a good mix of contestants on each show. We had to do a general knowledge quiz, and tell the group, in front of a camera, about ourselves. I've done a few auditions for different shows now, so I can't remember exactly which audition was for each show, but sometimes you might have to do a group activity or game as well. At the end of the day, it is best to be yourself though, and try and relax and have fun! It's almost impossible to ignore the camera in front of you if you do have to do a piece to camera, but try to just forget what you are doing and imagine that you are just talking to your best mate!
They should tell you at the audition what the next steps are. This will include when you can expect to hear if you have been shortlisted or if there are any other things you need to do or know at that time. You might also need to confirm your availability for their filming block at this time.
Tipping Point – the show
I was in shock when I was shortlisted, but absolutely delighted. I then found out that I was chosen for a show and once the filming schedule was confirmed, I was told when I would be needed and where.
There is a lot of waiting around on the day – but you are looked after so well. Food and drink, hair and make up, and they iron your clothes for you (but no you can't take a whole load of washing with you to get them to do it)!
The day is in itself a bit of a blur to me now. This is partly as it was so long ago, but partly as I've done a few other shows since (more about that later). When we finally went into studio to film, my knees were physically shaking and knocking together from the nerves. Thank goodness we were behind podiums. The first chunk of the first round I barely answered a question. I was nervous and some of the other contestants were outstanding and buzzing in all over the place!
On Tipping Point, you don't get to keep any money you have banked unless you get through to the final and win the show! I don't know how but I got to the final (well I do, it went to a tie break and the other contestant gave the wrong answer) but at this point I had banked £2,750! At the end of the game, if you haven't won the jackpot, you can do an all or nothing gamble for £10,000. That would have more than cleared all my debt, but if I lost, I would have been devastated to lose nearly three thousand pounds. I walked away and I can honestly say I don't regret that decision. I was over the moon.
Clearing my debt
As soon as my winnings hit my bank account, I transferred it over to the debt management company I was working with. They immediately started liaising with my creditors. I ended up clearing half my debt that day, as one of my creditors accepted a reduced settlement. I'm not a financial adviser – so I am not saying that's what you should do to clear your debt. I was in debt management with full financial advice and they decided based on my circumstances that this was the best course of action for me. If you think you might need some debt advice, check out my blog post "What to do if you find yourself in debt" for contact details of various organisations who can help you.
More about my quiz show experiences
If you have ever wanted to appear on a TV quiz or game show, then you need my new ebook which has just been published. You can get it here in the Amazon Kindle book store.  It gives you some top tips for applying for shows, appearing on the shows and what happens on the day. It also has some of my top ideas for managing your money and getting out of debt.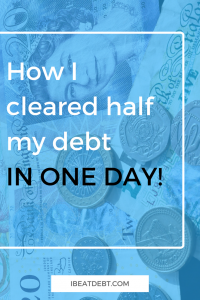 Conclusion
I wanted to share my getting out of debt story with you, but I also wanted to show you to think outside the box. It would never have occurred to me to apply to be on a quiz show. I didn't think real people really won things like that anyway. When I told my debt adviser I had won the money she nearly fell off her chair. It's definitely not a recommended approach to paying off debt, but it worked. Be creative with your attempts to get out of debt. There are lots of ideas on this site. Don't forget to look for me across social media platforms as well.
I"m going to leave you with a very poor quality video of Ben Shephard talking about my appearance on Tipping Point, when he was on breakfast TV the day after my episode aired.
Related Posts